We recently went on a food adventure to Italy but went no further than our neighboring town. Italy came to us in the form of Anne Robichaud. Anne may have been born and raised in the United States, but Italy captured her heart after graduate school both literally and figuratively.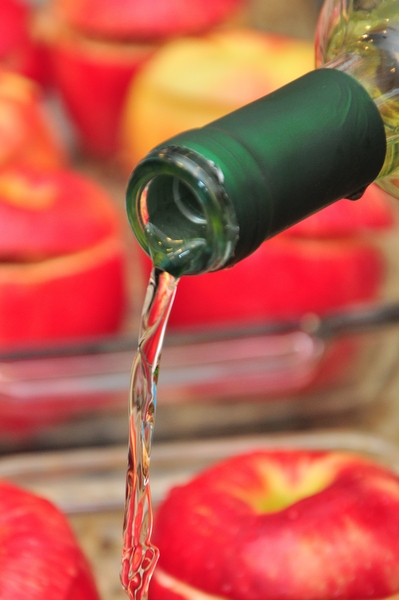 She met and married Pino, a native Italian, and has lived there since 1973. They moved to Umbria in 1975 with little money, but a lot of determination to work the land and have lived there ever since.
It is clear from talking with Anne for just a few minutes that she is immersed in the culture of her adopted land and loves to share her experiences. Each year she comes back to the states to teach Italian cooking in people's homes (both coasts and in between). We were very fortunate to be invited to one of those nights hosted by our friends, Sharon and Frank P. Anne directed a group of 15 to make three antipastos, salad, pasta, main course, and dessert. Think of it as organized cooking chaos. We all had roles to play from cutting onions and eggplant to finely chopping parsley to sautéing chicken to stuffing both tomatoes and apples. In less than two hours we sat down to an amazing family style meal and truly enjoyed the fruits (and vegetables) of our labors. The menu for the evening: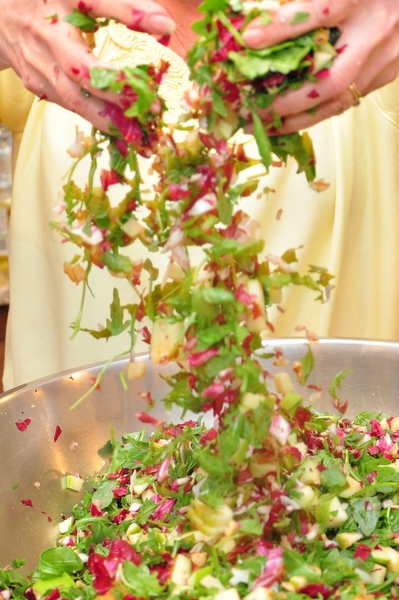 Antipasto – Green Beans with Cherry Tomatoes, Baked Stuffed Tomatoes & Eggplant and Mint Sauté
Pasta – Cauliflower with Rigatoni
Entrée – Golden Chicken
Salad – Apples, Walnuts, Arugula and Radicchio
Dessert – Baked Apples with Amaretti
Ed's biggest takeaway? Chop the arugula before it goes into the salad as it releases and intensifies the flavor. Oh, and he also enjoyed an exchange with Anne about an illustrious family member of his from Sicily. I don't think I'll say any more.
My biggest takeaway? Anne reminded us through her stories of living in Umbria that you can eat really well from your surroundings. She told a story of one of her older friends who's never left the area and isn't wanting for anything. She has family and friends plus plenty of ingredients to make the recipes that have been passed down through generations. This was a personal "farm to table" story that hit home. Closer to home in PA I'm looking forward to the farmer's markets that will be opening soon to provide plenty of local fare.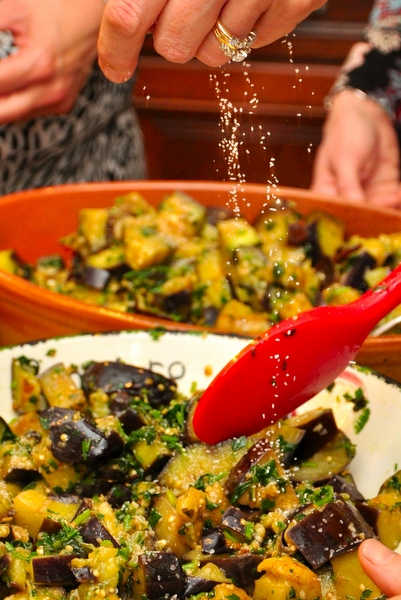 Looking to host an evening in your home that your family and friends will not forget? Learn more about Anne, her cooking classes and guided tours of Umbria and consider having her come to your kitchen on her next trip to the states.
Photo credits:  All photos in this post were taken by Taylor Harvey, Sharon and Frank's super talented niece.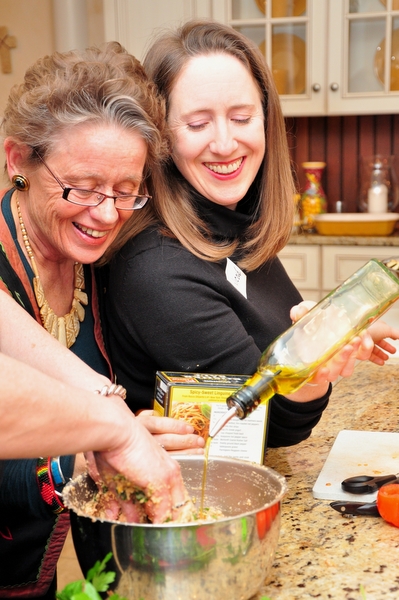 Anne R (left) instructing Carol J (hands) and me on making the stuffing for the baked tomatoes.