I lost one of my biggest food fans this summer. Alison D loved my cookies and flavored nuts in particular and it's hard not to think of her during the holidays. A few years ago she shared this recipe with me as it was one of her favorites and I thought now was the perfect time to make these.
Alison's original recipe called for pecans, but I used both pecans and almonds as I like a bit of variety. As the title says these nuts are both sweet and spicy which makes for a nice contrast.  They go well on a cheese platter – especially when paired with an aged Gouda. They also make a great gift.
For those of you who may also be missing Alison, why not make a batch of these for New Year's day?
Holiday Tip:  Make these a week or so ahead of when you plan to serve or gift them. Then hide them as they're very tempting.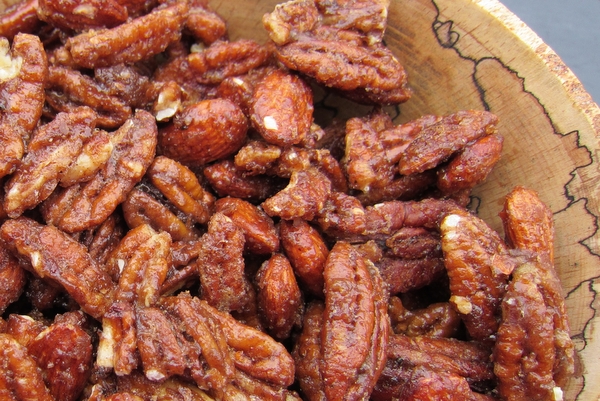 | | | |
| --- | --- | --- |
| Alison's Sweet and Spicy Mixed Nuts | | Print |
Ingredients
1 cup sugar
2 teaspoons salt
1 teaspoon ground cumin
1 teaspoon ground cinnamon
1 teaspoon coarsely ground black pepper
¼ to ½ teaspoon cayenne pepper
6 cups (about 20 ounces) unsalted mixed nuts (pecans, almonds, walnuts, etc.)
2 large egg whites, beaten until frothy
Instructions
Preheat oven to 325°F.
Spray two baking sheets or pans with nonstick spray.
Mix sugar, salt and spices in large bowl. Stir in nuts.
Stir in egg whites and coat well.
Divide mixture between two baking sheets and spread into a single layer.
Bake until pecans are golden and almost dry, stirring occasionally, about 20-25 minutes.
Remove from oven and cool.
Store in an airtight container for up to two weeks.
Notes
* If they're a bit moist when they come out of the oven, that's fine as they dry as they cool. You may need to break them up a bit.
* Nuts freeze well in a ziplock bag for a few months.
* Recipe can be doubled or tripled, but you'll likely need to cook them in batches.