"This cake is better than a cookie!" ~ Jack B, age 9, exclaimed to me twice in one evening…
This cake is that good! And, my sister-in-law, Annie T, can attest to it. I can't visit her without bringing at least one, preferably two loaves of this cake to her. She eats it for breakfast, as an appetizer or for dessert. And, now I have another fan who enjoyed this cake at an early summer BBQ (and for breakfast the following day)!
It's a very easy cake to make – you don't even need a mixer. And, while it has a pound-like consistency, the "fat" is actually canola oil (or vegetable oil). If you have "nut" issues (allergies or you just don't like them), you can leave the almonds off the top of the cake and substitute vanilla for the almond extract. This is the perfect dessert for the summer as it pairs very well with either fresh fruit (and freshly whipped cream) or ice cream (chocolate is great with the poppy seed-almond combination). And, it freezes well, so you can always have some on hand.
P.S.  I recently made a change to this recipe that made it even better – something that neither Annie nor I thought was possible. I had a 7 ounce tube of almond paste that was about to expire, so I cut it up into small pieces and added it to the batter – about 2.5 ounces per cake (I usually triple the recipe). The almond paste "melted" into the batter so it's not visible. It just made it more moist and tasty.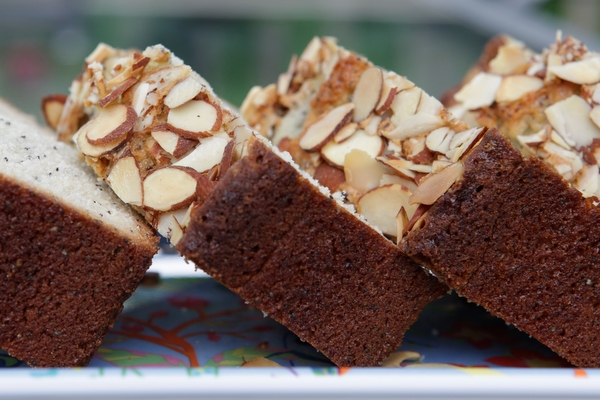 Photo by Betsy Barron Photography
| | | |
| --- | --- | --- |
| Annie's Poppy Seed-Almond Cake | | Print |
Ingredients
1¼ cups sugar
⅓ cup canola or vegetable oil
2 large eggs, at room temperature
2 tablespoons poppy seeds
¾ teaspoons almond extract
1½ cups cake flour (see notes)
¾ teaspoon baking powder
¼ teaspoon salt
2.5 ounces of almond paste, cut into small pieces (optional)
½ cup milk (skim is fine)
⅓ cup sliced almonds
confectioners' sugar
Instructions
Preheat oven to 350°F.
Butter and flour a loaf pan.
In a large bowl, whisk together sugar, oil, eggs, poppy seeds and almond extract until blended.
In a medium bowl, sift together flour, baking powder and salt. Add almond paste, if using, and stir.
Dividing the flour mixture into 3 batches, whisk the flour mixture into the egg mixture alternately with the milk, beginning and ending with the flour mixture.
Pour the batter into the prepared pan.
Sprinkle the almonds evenly over the top.
Bake until the top is deep brown and a cake tester inserted into the center comes out clean, about 65-75 minutes.
Transfer to a rack and let cool in pan for 10 minutes.
Invert onto the rack, turn right-side up and let cool completely.
Dust with confectioners' sugar before serving.
Notes
* If you don't have cake flour, you may substitute 1 cup minus 2 tablespoons all purpose flour for 1 cup of cake flour.
* If you're using almond paste, put it in the freezer for a few hours as it's easier to cut.
* Cake freezes well.
* Recipe can be doubled or tripled.
* A double recipe fits into a 9x13-inch Nordic Ware Daisy or Snowflake cake pan. Bake for 1¼ hours.
* Make it gluten-free: substitute 1½ cups
Cup4Cup
gluten-free flour for the all-purpose flour. Everything else remains the same.