My favorite season is approaching. The temperatures are cooling and soon the leaves in the northeast will be changing, too. With each new season there's a chance to make some old favorite recipes and try some new ones, too.
It's one of the many reasons I love that I live in a place with four seasons.
A recent trip to upstate New York afforded us an opportunity to visit with family. We can't leave their house at this time of year without John I sharing the bounty of apples that are grown near their house and throughout their town. This trip brought us some early season Macintoshes. In addition to enjoying them on their own, I thought I'd make an autumn-inspired salad.
I started with some baby lettuce and added toasted walnuts, cheddar cheese and thin slices of apple. I continued the fall theme into the dressing by using maple syrup to add a bit of sweetness. While you can use any cheddar, I used Clothbound Cheddar which is the result of a partnership with Cabot and Jasper Hill Farm from Vermont. It's an "approachable yet complex" cheddar – there's a sweetness and nuttiness to it that makes it pair well with apples. Plus, it's lactose-free. This salad tastes like fall.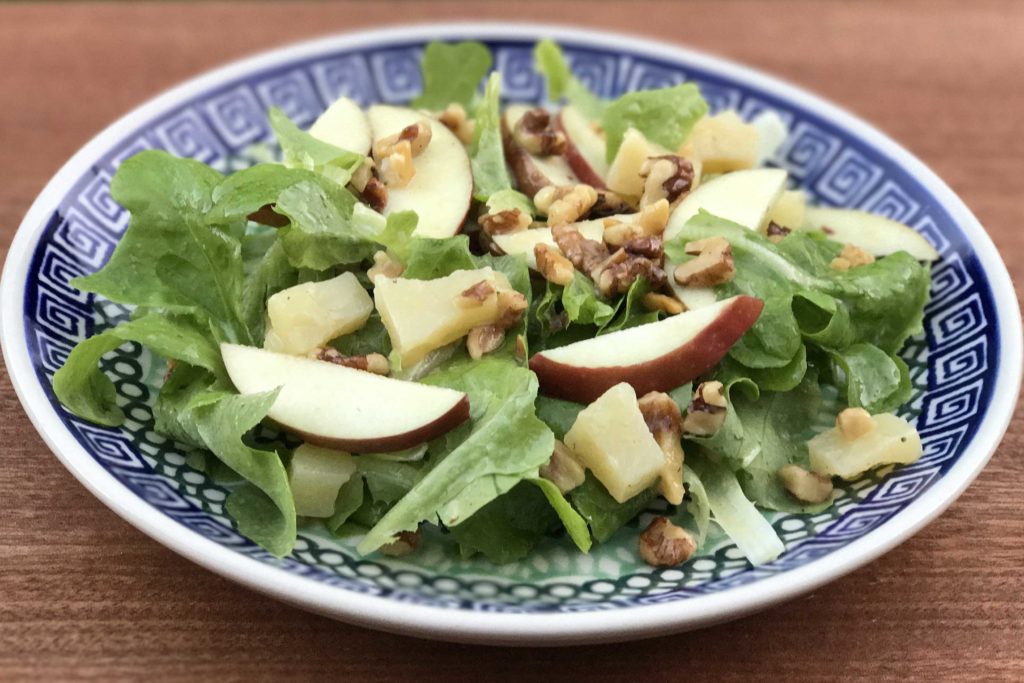 | | | |
| --- | --- | --- |
| Apple and Cheddar Salad with Maple Vinaigrette | | Print |
Ingredients
5 ounces baby lettuce greens
2 small apples, thinly sliced
3 ounces cheddar cheese, such as Clothbound Cheddar, cut into small cubes
2 ounces chopped walnuts, toasted
1 tablespoon maple syrup
2 teaspoons Dijon mustard
1-1/2 tablespoons apple cider vinegar
1-1/2 teaspoon freshly squeezed lemon juice
¼ cup walnut oil
Sea salt and freshly ground pepper
Instructions
Whisk maple syrup, Dijon mustard, apple cider vinegar, lemon juice, salt and pepper in a bowl or measuring cup.
Add oil in a slow stream, whisking until emulsified (well blended).
Mix lettuce, apple slices, cheese and walnuts in a bowl. Toss with enough dressing to coat.
Notes
* If you don't have walnut oil you can substitute extra-virgin olive oil.
* It's likely you'll have some extra dressing – it keeps for a few months in the refrigerator.
* Double or triple the recipe as needed.