When I think of Easter artichokes are one of the first foods that come to mind as my mother always served steamed whole artichokes on Easter. This dip satisfies that artichoke craving but you can make it all year long since it uses canned artichoke hearts. Artichokes are one of my most favorite foods, so yes, I crave them.
Many years ago I was wandering around my local Williams-Sonoma store looking at the prepared foods. I saw a jar of artichoke dip and read the ingredients. I thought, "I can make this at home." So I skipped purchasing the dip and came home and made my own. I have no idea how it compares to that original one from Williams-Sonoma but I do know that I love it and so do many relatives and friends.
Not only is this great served as a dip but it also makes a wonderful spread for a sandwich (try it with rosemary ham) or as a simple pasta sauce. And as much as I love a good artichoke-spinach dip, this artichoke dip is far healthier as it doesn't have any cheese or mayonnaise in it.
Gluten-Free/Wheat-Free Option:  While the dip is entirely gluten-free/wheat-free, if you're looking for a cracker on which to serve it, I recommend Glutino Bagel Chips. They are the closest I've come to a "with gluten" bagel chip or small toast.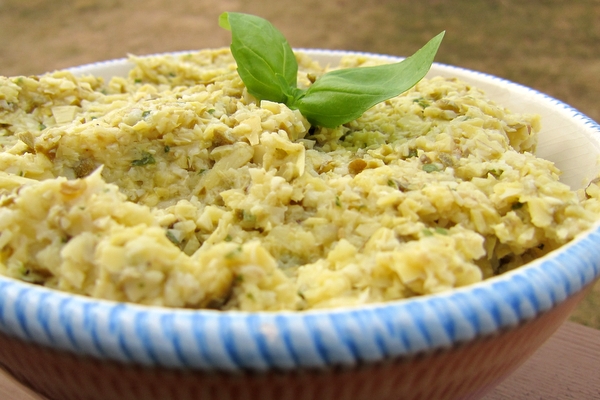 | | | |
| --- | --- | --- |
| Artichoke and Caper Dip | | Print |
Ingredients
2 14 ounce cans of artichoke hearts (packed in water), drained
3 ounces of capers, drained
1 clove of garlic
1 lemon (juice and grated zest)
8-10 fresh basil leaves
About 2 tablespoons extra virgin olive oil
Sea salt and black pepper
Serve with baguette slices or toast/bagel crackers
Instructions
Drain the artichoke hearts and capers.
Chop the garlic clove in a food processor.
Add the artichoke hearts, capers, lemon juice, lemon zest and basil leaves; chop until just mixed. While the motor is running add small amounts of olive oil until you reach the right consistency. Finish with sea salt and freshly ground black pepper.
Be careful not to over mix the spread, it should be a little chunky.
Serve with baguette slices or toast/bagel crackers.
Keeps for a week in the refrigerator.
Notes
* Any size artichoke heart will do as they will be chopped in the food processor.
* Try
Glutino Bagel Chips
for a gluten-free/wheat-free option.
* Also great as a sandwich spread or on pasta.