I love artichokes and am always excited to see an artichoke dip at a party or on a menu. There are a lot of different varieties of artichoke dips, but this one is my favorite and has been well received by many friends and family. You start by sautéing fresh spinach in some olive oil with a clove of garlic to provide some added flavor. Then add chopped artichokes (from cans). Finish with lots of cheese (make sure you use the two "types" in the recipe below – it's worth it) and mayonnaise to bind it.
What to serve it with? Slice up a baguette or ciabatta loaf – serve slices fresh or baked in oven to crisp them. Water crackers or Triscuits pair nicely, as well. (Confession:  I happen to love Triscuits.) This dip can be made ahead of time, so it is perfect for parties. And, the leftovers even reheat nicely for a snack the next day (if there are any).
Thank you, Cindy J, for providing the original recipe (which I have adapted a bit).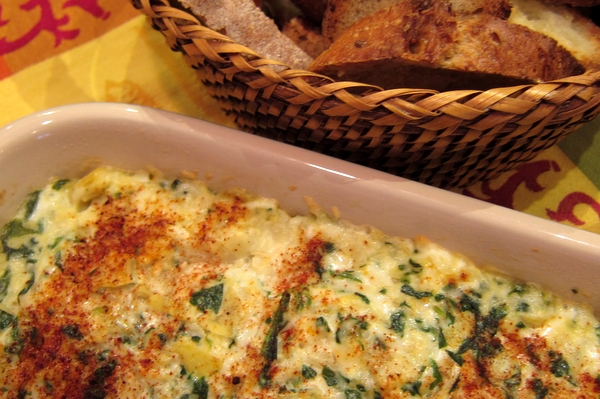 | | | |
| --- | --- | --- |
| Artichoke and Spinach Dip | | Print |
Serves:
10-12 as an appetizer
Ingredients
2-3 teaspoons olive oil
5 ounces fresh spinach
1 clove garlic, finely chopped
2 cans (14 ounces each) of artichoke hearts packed in water
1 cup grated/shredded Pecorino-Romano blend or Parmesan cheese
1 cup shredded Italian cheese blend (4 or 6 cheese blend)
About ½ cup of mayonnaise
Paprika
Sliced bread or crackers (for serving)
Instructions
Heat olive oil in a frying pan over medium-high heat and sauté spinach. Add garlic when spinach is about halfway done. It only takes a few minutes total to cook it – in the end you'll have a small handful of spinach. Let spinach cool on paper towels to soak up excess moisture. Chop spinach when cool.
Drain artichoke hearts well and chop.
Place spinach and artichoke hearts in a bowl.
Add cheese and mix.
Finally, add enough mayonnaise so that it is mixed well and holds together well. Mayonnaise should act as a binding agent. You may need more or less than what is recommended.
Coat 9-inch dish (round or square) with olive oil.
Place dip in dish and sprinkle with paprika.
Bake at 350°F for about 20 minutes (30 minutes if it's been refrigerated).
Serve warm or at room temperature with sliced bread or crackers (such as water crackers or Triscuits).
Notes
* You can make the dip up to two days ahead and refrigerate it until ready to bake.
* You can bake it in the oven ahead of time and reheat it in the microwave.
* To toast baguette slices: slice baguette at an angle and place pieces directly on an oven rack (it may be easier to remove the rack from the oven to do this). Bake at 425°F for 5-6 minutes until crispy. Let cool.