I was looking for a side to go with tuna that Ed as grilling. He planned to serve it rare with wasabi and soy sauce, so I thought I should incorporate the Asian theme into a side dish as well.
The main ingredient in this slaw is napa cabbage (sometimes called Chinese cabbage) which is oblong shaped and sweeter and softer than a traditional green cabbage. To this I added other vegetables to increase the crunch factor – celery, peppers and carrots.  The dressing gets its Asian flavor from rice wine vinegar, soy sauce and sesame oil. Don't forget the peanuts as they add more crunch and flavor.
This is very easy to make and goes well with Asian main dishes, but would also make a nice alternative to traditional coleslaw.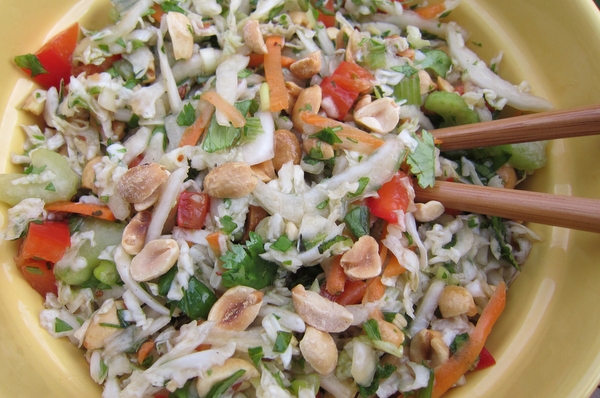 Ingredients
¼ cup rice vinegar
2 teaspoons soy sauce
Juice of one lime, about 1 ounce
1 tablespoon minced peeled fresh ginger
½ teaspoon sugar
½ teaspoon red pepper flakes
¼ cup canola oil
2 tablespoons oriental sesame oil
5 cups (12 ounces) Napa cabbage, thinly sliced
1 carrot, peeled and shredded
1 celery stalk, cut into small pieces
1 medium red pepper, cut into small pieces
½ cup chopped cilantro (about one large handful chopped)
6 scallions, thinly sliced
½ cup roasted peanuts
Instructions
Whisk rice wine vinegar, soy sauce, lime, sugar and red pepper flakes in a medium bowl to blend. Add canola oil and sesame oil in a steady stream while whisking. Season with salt and pepper.
Mix cabbage, carrot, celery, red pepper, cilantro, scallions and peanuts in large bowl. Toss with enough dressing to coat.
Cover and refrigerate at least an hour and up to three hours before serving.
Notes
Recipe can easily be doubled or tripled.