Nobody is going to be surprised that I subscribe to many cooking magazines (good old fashioned paper ones that appear in my mailbox) plus a bunch of online blogs as well. In reading my fall issues, I kept coming across a variety of recipes for one pan chicken meals and decided that I should give it a try. I re-read a few recipes for some inspiration but opted to go to the grocery store to see what I could find.
I knew that I had to have potatoes (something I rarely pass up) so I started there. I saw my first Aloha pepper – a sweet red pepper with stripes of yellow on it. It was too pretty to not to use. Apparently I wasn't the only one to fall for this new pepper offering as I saw one at my friend Lisa D's house a few days later. I added small carrots (not the baby ones that I find to be too slimy for my liking), Brussels sprouts, garlic and some fresh herbs from my garden. Any vegetables that benefit from slow roasting are a good match.
The secret to this dish is the bacon (thanks to Food & Wine for that inspiration). Since this meal cooks for 45 minutes or so, you need thick pieces of bacon so they don't burn. I went to the deli counter and asked for a slab of bacon – just a slab, I insisted that I would slice it at home (this was a bit distressing to the person helping me who is used to slicing). I cut into rough 1/2-cubes, also called lardons.  Since some of the bacon fat will mix with vegetables be sure not to over oil them.
It's easiest to toss the bacon, vegetables, herbs and spices in a bowl and stir in the olive oil. Spread this mixture in a single layer on a large cookie sheet covered in parchment paper. Coat the chicken lightly in oil by tossing it in empty bowl and sprinkle with salt and pepper.
One bowl for prep, one pan to cook and lots of good flavors and colors. If you have any of the vegetables and bacon leftover, fry up a few eggs and serve them on top ("throw an egg over it" as my mother-in-law used to say).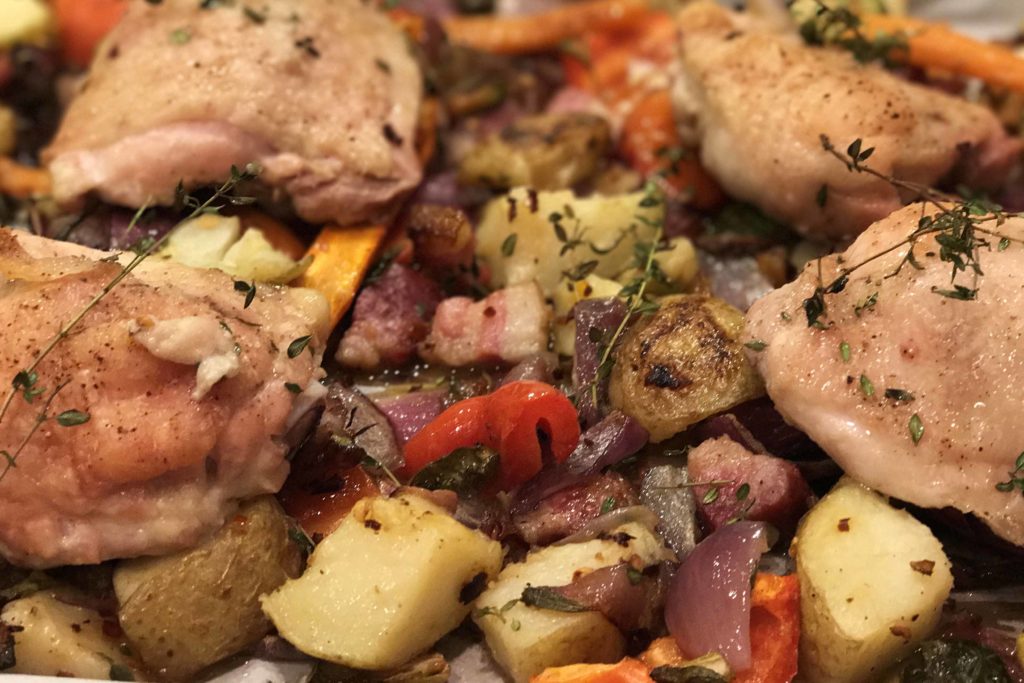 | | | |
| --- | --- | --- |
| Autumn Chicken, Bacon and Vegetable Bake | | Print |
Ingredients
3 Yukon Gold potatoes, skins on
1 large red onion, cut into 1-inch wedges
10 Brussels sprouts, trimmed and cut in half lengthwise
4 small carrots, peeled and cut in half lengthwise
1 red pepper, cut into 1-inch pieces
4 large garlic cloves, smashed and each clove cut in half
1 large sprig of rosemary, leaves removed
5 sprigs of thyme
1 teaspoon of red pepper flakes
Sea salt and freshly ground pepper
⅓ pound slab bacon, cut into ½-inch square cubes (lardons)
1 to 2 tablespoons olive oil
6 chicken thighs with skin
Instructions
Preheat oven to 400°F. Cover a large cookie sheet with parchment paper.
To ensure potatoes are cooked through, scrub them clean and poke all over with a fork. Microwave on high for about 5 minutes. Let cool slightly and cut into 1-inch cubes.
In a large bowl mix potatoes, red onion, Brussel sprouts, carrots, red pepper, garlic, rosemary, thyme, red pepper flakes, salt and pepper. Add bacon and toss. Slowly add oil and mix until just covered. Spread mixture evenly over cookie sheet.
Add chicken to bowl to lightly coat in oil – adding a bit more if needed. Salt and pepper chicken all over. Lay chicken atop the vegetables and bacon.
Place in oven and roast for about 45 minutes until chicken is cooked through and vegetables are tender.
Notes
* If you have too many vegetables for one pan transfer some to a second pan. It's important that they be in a single layer.
* Recipe can be doubled – you may need to move your oven racks around to ensure proper circulation.