Baba ghanoush (also spelled as baba ganoush, baba ganush, baba ghanouj or baba ghanoug) is a dish that originated in the eastern Mediterranean. While there are a few variations of this appetizer they all contain eggplant that is either grilled or broiled to give it a smoky flavor. I've added tahini which is more typical of baba ghanoush from Israel.
I'd like to dispel the notion that baba ghanoush is difficult to make and time consuming. You can no longer use that as an excuse as this one is simple to prepare and very satisfying. My friend, Bryn S, paid me the highest compliment when she told me that she liked mine better than that from a long-standing Greek stand at a local farmers market.
Before working on the eggplant I start by roasting some garlic. Roasted garlic is so easy to make and provides a much softer garlic flavor which pairs well with the smoky eggplant. Then I peel and slice the eggplants so that they are thin, drain them in a colander and broil them on a cookie sheet. I did this in two batches with some moving around of the eggplant slices. It's okay if they get a bit burnt around the edges but you don't want them to be too burnt. Lastly place the eggplant in a food processor along with tahini, lemon juice and chopped parsley; process until smooth and you're done.
Once you make this you'll never go back to store-bought baba ghanoush again. While a bit more work I'd recommend doubling this recipe (a double recipe will fit in a large food processor). Eggplants may look big they cook down a lot so that you only end up with about 2 cups of baba ghanoush. You'll wish you had more (so double it).
Baba ghanoush actually means "pampered papa" in Arabic. Perhaps there are some dads out there who might like this for a Father's Day snack?
Serve this alongside Chicken Shawarma and Best Ever Hummus for a super satisfying meal. This appetizer is gluten-free/wheat-free as long as you serve it with gluten-free crackers or veggies.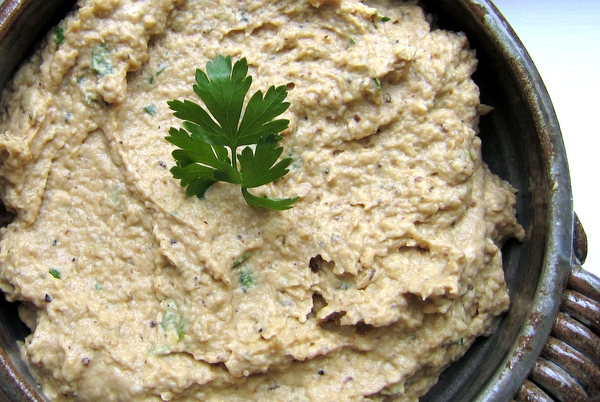 Ingredients
1 head of garlic (use 4 cooked cloves)
3 medium eggplants (2-1/4 pounds)
Sea salt
Olive oil
2 ounces fresh lemon juice (~ 2 lemons)
3 to 4 tablespoons tahini
3 tablespoons chopped fresh parsley
For serving: pita, pita chips or fresh veggies
Instructions
For the roasted garlic: You can use a toaster oven or make this a few days in advance. Preheat oven to 400°F. Cut top off head of garlic exposing the tops of garlic cloves. Drizzle with 1 to 2 teaspoons of olive oil. Wrap in aluminum foil. Bake for 30 to 45 minutes or until garlic is soft. It should "ooze" out of the garlic peels. Let garlic cool. Remove cloves to a small container. Be sure to squeeze the head of garlic at the end to get as much roasted garlic as you can. Set aside 4 cloves and store the rest in the refrigerator for 2 weeks or freeze for up to 3 months.
For the eggplant: Preheat oven to high broil (or medium if you have that option) and position a rack at the top of the oven.
Peel eggplants. Slice eggplants into ¼ inch rounds and sprinkle with sea salt and place in a colander in the sink to drain any excess liquid. After about 10 minutes, rinse slightly and then pat dry between 2 towels.
Cover large baking sheet with aluminum foil. Working in batches, arrange eggplant on a baking sheet and drizzle with olive oil. Roast for 5-10 minutes, turning once or twice, until the eggplant is softened and golden brown. Remove from baking sheet, stack and wrap the rounds in foil to lock in moisture – wait 5 minutes. Repeat with remaining eggplant slices.
Add eggplant, lemon juice, garlic, 3 tablespoons tahini and a pinch of salt to food processor. Mix until creamy. Taste and add additional tablespoon tahini if needed. Add parsley and pulse to incorporate.
Serve with pita, pita chips and veggies.
Notes
* A double recipe will fit in a large food processor.
* Baba ghanoush keeps covered in the refrigerator for a few days.
Source:  Variation on recipe from
MinimalistBaker.com