This is a great salad that can easily be adapted for an everyday meal or a Thanksgiving side. Over the last few years a few family members have served kale salads for our winter holidays. They've started with mature kale which requires a bit of massaging to remove the bitterness. It doesn't take much work and it's worth the effort. But if you start with baby kale, which is already more tender, you have one less step as massaging isn't necessary.
You can use any kind of Parmesan-type (hard sharp Italian cheese) for this recipe. Anything that's full of flavor and is easy to cut into small cubes. I've also used Beemster's Paradiso which is an Italian-style cheese made in Holland. The nice thing about Paradiso is that it's labeled as both lactose and gluten-free in case you're feeding someone with food allergies.
Add to it fruit – in this case sun dried tomatoes – but dried cherries or cranberries would work, too. Top it off with toasted pine nuts. And you're good to go.
If you can find a mix of kale, arugula, mizuna and/or radicchio it works well with this salad, too. Wegmans calls it their "Italian Style Kale Blend." We'll call that the "fancy" version.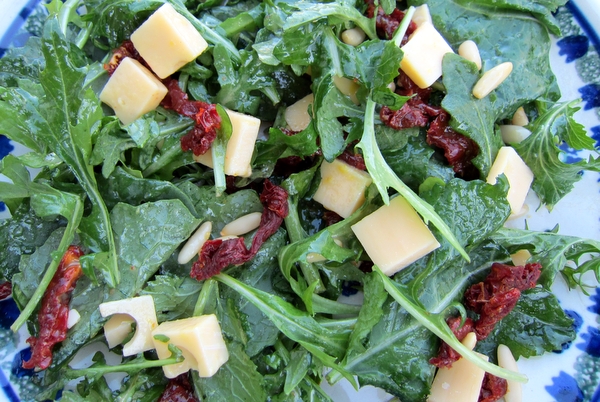 | | | |
| --- | --- | --- |
| Baby Kale-Sun Dried Tomato-Pine Nut Salad | | Print |
Ingredients
5 ounces baby kale
3 ounces sun dried tomatoes, chopped
3 ounces Parmesan cheese, cut into small cubes
3 ounces pine nuts, toasted
1-1/2 tablespoons lemon juice
1-1/2 teaspoons red wine vinegar
1-1/2 teaspoons Dijon mustard
1 garlic clove, minced
Salt and freshly ground black pepper, to taste
6 tablespoons extra virgin olive oil
Instructions
Whisk lemon juice, red wine vinegar, Dijon mustard, garlic, salt and pepper in a bowl or measuring cup.
Add oil in a slow stream, whisking until emulsified (well blended).
Mix baby kale, sun dried tomatoes, Parmesan cheese and pine nuts in a bowl. Toss with enough dressing to coat.
Notes
* It's likely you'll have some extra dressing – it keeps for a few months in the refrigerator.
* Double or triple the recipe as needed.