Ed and I had a fabulous honeymoon in Ireland many years ago.  I have so many good memories including successfully eating potatoes every day we were there as potatoes are another one of my favorites.
My friend, Julie P, brought this recipe to my house for a going away party for our friend, Sarah S, and I have been making it regularly since.  The funny thing is there aren't potatoes in recipe!  It's everything you would put ON a baked potato, but no potatoes.  The original recipe called for sour cream, but I make it with Greek yogurt and you'd never know the difference (and you don't feel quite so guilty).  You can serve it with veggies, but I prefer to serve it with really good baked potato chips.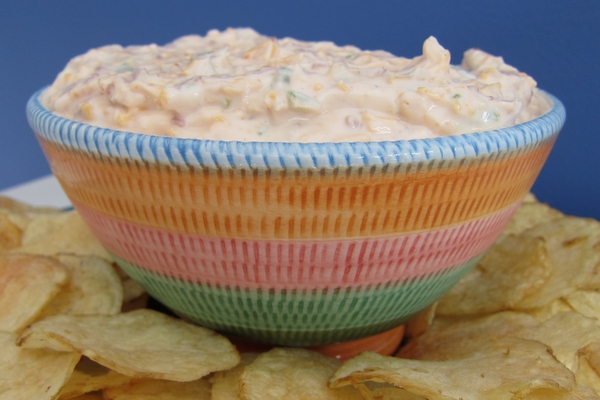 Serves:
Makes about 2½ cups
Ingredients
1 (16 ounce) container fat-free Greek yogurt
1-1/2 ounces of bacon bits
1 cup shredded Cheddar cheese
3 scallions, chopped
1 tablespoon Ranch dressing (or to taste)
A few dashes of hot sauce (to taste)
1-1/2 teaspoons chopped chives
Instructions
In a medium size mixing bowl, combine yogurt, bacon, Cheddar cheese; green onions; dressing and hot sauce stir well.
Refrigerate for a few hours or overnight.
Sprinkle with chives before serving.
Notes
- If you aren't going to make your own bacon bits (not sure it's necessary) use Hormel Real Bacon bits (found in salad dressing section). I don't recommend using some "fake" bacon bits. - Frank's Red Hot Buffalo Wing Sauce ("regular" not "hot" version). - Serve with Sea Salt Kettle Brand Baked Potato Chips (found in the natural food section at Wegmans) and/or veggies.