My friend, Suzanne P, is a fabulous baker and this is one of my favorite recipes from her repertoire. Like me, she believes that if you're going to enjoy sweets, don't skimp on the good stuff. Go for the butter, the heavy cream, the good chocolate. This recipe is no exception. In fact, I'm fairly certain that these muffins are over the top good because of the two sticks of butter.
I was excited to see that we had some bananas that were past their prime but perfect for making muffins. Don't be tempted to leave out the coffee as it works really well with the banana and chocolate combination.
Try these muffins once and I'm certain they'll become one of your favorites, too.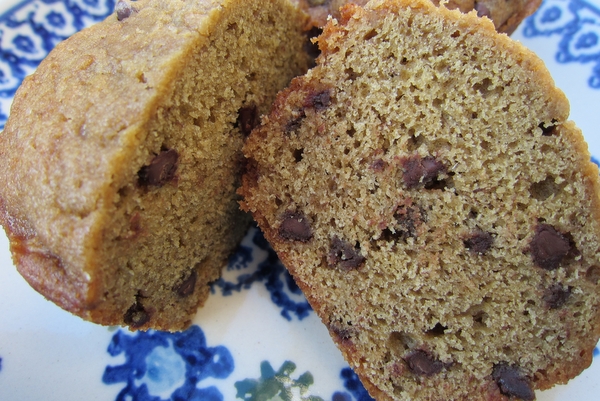 | | | |
| --- | --- | --- |
| Banana-Coffee-Chocolate Chip Muffins | | Print |
Ingredients
2-1/2 cups all-purpose flour
1 teaspoon baking powder
½ teaspoon baking soda
½ teaspoon salt
1 tablespoon instant coffee or espresso powder
1 tablespoon hot water
1-1/3 cups mashed fully ripe banana (3 medium bananas)
1 cup (2 sticks) unsalted butter, softened
1-1/4 cups granulated sugar
1 egg
1 cup semisweet chocolate chips (regular or mini)
Instructions
Preheat oven to 350°F.
Grease (or use paper muffin cups) a 3 by 1-1/2 inch muffin cup tin.
In a bowl, stir together flour, baking powder, baking soda, and salt.
In a separate bowl, combine instant coffee or espresso powder and water. Stir into bananas.
In a large bowl using an electric mixer, cream butter and sugar until light and fluffy. Beat in egg. Mix in banana mixture. Stir in flour mixture. Fold in chocolate chips.
Divide batter evenly into prepared muffin cups by filling them about ¾ of the way full.
Bake for 20-25 minutes, or until cake tester inserted in center of one muffin comes out clean.
Remove muffins from pan and cool on a wire rack.
Notes
Muffins freeze well.