Each spring I plant a variety of herbs. I start with small plants that I've picked up at local nurseries. Except for basil – this I grow from seed. This year's harvest was one of the best I've ever had. My basil plants were about three feet tall with large wonderful leaves.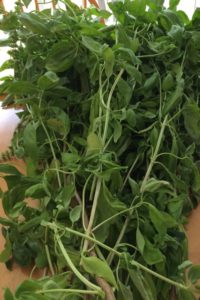 What to do with all this basil (pictured on left)? Make Basil Pesto, of course. When I was done I had about 60 ounces of pesto which I froze into small containers to use throughout the winter months.
My fresh basil also inspired one of Ed's Sunday Cocktails. While basil is savory it also has some sweetness to it. It mixes well with lime juice and tequila. I recommend a 100% agave reposado tequila for this drink. It's been aged (typically in oak barrels) which gives it a more complex flavor and golden color. Muddling the basil is key to this recipe – don't omit this step.
Sipping one of these lovely libations makes it a bit easier to say goodbye to summer.
Gluten-Free/Wheat-Free Note:  As long as you drink good tequila which is made from blue agave plants grown in Jalisco, Mexico, you have no fear of gluten. Don't be tempted by the inexpensive brands as they often add gluten. To be safe make sure the bottle says "100% agave." High quality tequila is worth the cost as it's so much more refined and smooth.
| | | |
| --- | --- | --- |
| Basil-Lime Margarita | | Print |
Ingredients
2 ounces fresh lime juice (~ 2 limes)
2 tablespoons agave nectar
8 fresh basil leaves, torn into pieces
4 ounces reposado tequila (or other premium tequila)
For garnish: fresh basil leaves and lime slices
Instructions
Freshly squeeze lime juice.
In a cocktail shaker, muddle lime juice, agave nectar and torn basil leaves.
Fill shaker half way with ice.
Add tequila and shake.
Strain into old fashioned glasses filled three quarters of the way with ice.
Serve with a few basil leaves and lime slices.
Notes
* Before squeezing the limes, heat them in a microwave for about 30 seconds and then rub them back and forth on the counter top. This easy two-step process results in more juice per piece of fruit.