Who has lots of basil growing in their garden? Basil is the one thing that I can consistently grow from seed and this year I was rewarded with my best crop yet. The plants were well over two feet high and most of the leaves were about four inches long. Last Sunday morning I decided it was time to "harvest" my basil to make some pesto. 
Pesto was trendy long ago and I've never stopped loving it. It's so easy to make and always has that wonderful fresh summer taste that I love. I followed my traditional pine nut and olive oil recipe for most of my batches, but I did mix it up a bit – using walnuts and walnut oil for one batch. I serve it on pasta (hot or cold), steamed potatoes, with tomatoes and mozzarella, or on a sandwich mixed with a bit of mayo.
Fortunately my "harvest" yielded enough to put some away in the freezer so we can enjoy that a bit of summer in the middle of winter.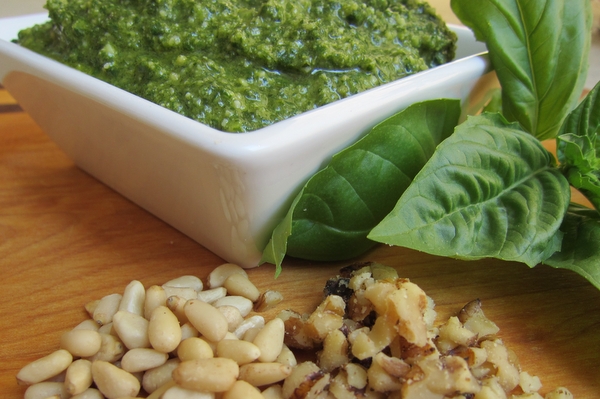 Serves:
Makes about 1 cup
Ingredients
4 cups of fresh basil, thoroughly washed and patted dry
2 small cloves of garlic
¼ cup of pine nuts
½ cup of extra virgin olive oil
½ cup grated Parmigiano Reggiano cheese
Coarse sea salt and freshly ground pepper
Instructions
Combine the basil, garlic and pine nuts in the bowl of a food processor and chop.
Leaving the motor running, add the olive oil in a slow, steady stream.
With the motor off, add the cheese, some salt and a liberal grinding of pepper.
Process briefly to combine, then scrape into a bowl and cover until ready to use.
Notes
* You can substitute walnuts for pine nuts and walnut oil for olive oil for a different nutty flavor.
* As far as measuring the basil, I like to take 4 big handfuls or enough to fill a large food processor container.
* This recipe freezes well so you can enjoy some summer flavors in the middle of winter.