As the days get shorter and the weather colder I look forward to making one pot meals on Sunday afternoons. This means dinner that night and leftovers placed in the freezer for a future meal.
Chili is one of my favorite one pot meals. There are some who believe that chili should never have beans it – that it should just be meat-based. I am not in that camp – for me chili is a combination of some sort of animal protein (beef, turkey, chicken, etc.) and beans. I also go for flavor over heat. This chili is made with ancho chilies which are on the mild side. They are the dried form of a poblano – think of them as one step above a pepperoncini. This chili has a few layers of flavor from the ancho chilies to the dark chocolate (it's subtle but you can tell it's there) to the dark beer to the array of herbs and spices.  This helps to make it a bit more complex than some other chilis. Don't forget to add the cider vinegar when it's done cooking. That little bit ties all the flavors together.
One pot to clean and a meal for a future date? It doesn't get much better than this. If you happen to have a small portion leftover this chili also makes a great topping for nachos.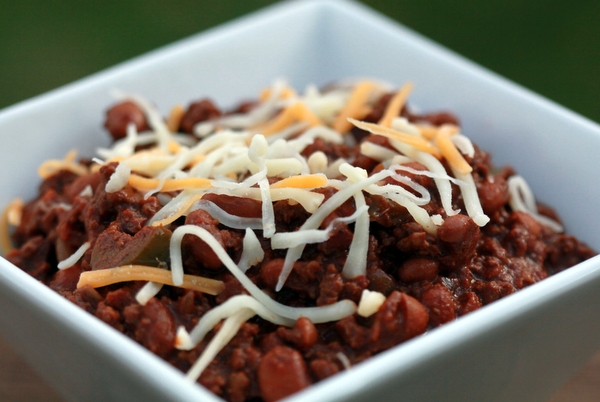 | | | |
| --- | --- | --- |
| Beef, Ancho and Chocolate Chili | | Print |
Ingredients
2 ancho chiles, stemmed, seeded and crumbled
¼ pound pancetta, finely chopped (about ½ cup)
1 tablespoon canola oil (if needed)
2 pounds ground beef (80/20)
2 medium yellow onions, finely chopped
1 green bell pepper, finely chopped
4 garlic cloves, minced
3 tablespoons red chile powder
2 teaspoons dried oregano
1 teaspoon freshly cracked black pepper
½ teaspoon cayenne pepper
1 bay leaf
¼ cup tomato paste
2 teaspoons brown sugar
1 12-ounce bottle dark beer (such as Negra Modelo)
2 15-ounce cans pinto beans, drained
1 14-ounce can crushed tomatoes
2 ounces good quality bittersweet chocolate, roughly chopped
1 tablespoon cider vinegar
For serving: Sliced avocado, cilantro, grated cheddar, lime slices and sour cream for serving
Instructions
Place dried chiles in a bowl and pour 1 cup of boiling water over them. Let chiles soak for 10 minutes. Transfer them to a blender or Vitamix and purée until smooth; set aside.
In a large heavy-bottomed 7-quart pot or a Dutch oven over medium-high heat, add the pancetta and cook, stirring often, until the fat has rendered and pancetta is crisp, 4 to 6 minutes. Remove pancetta and transfer to a bowl.
Use the fat from the pancetta or add a tablespoon of canola oil to the pot. Brown the beef, breaking it up using a wooden spoon, about 5 to 7 minutes. Remove meat using a slotted spoon and transfer to the bowl with the pancetta. Drain off most of the fat.
Add onions and pepper to the pot. Season with salt and cook, stirring often, until soft, 6 to 8 minutes. Add garlic, chile powder, oregano, black pepper, cayenne pepper and bay leaf and cook for 2 to 3 minutes, until the pot is very fragrant from the spices.
Decrease heat to medium. Add tomato paste and reserved meat and pancetta and cook for an additional 10 minutes, stirring frequently.
Add reserved ancho chile purée, brown sugar, beer, beans, crushed tomatoes and chocolate.
Simmer over medium low heat for 1-1/2 hours or until the flavors have melded together.
Stir in the vinegar. Taste and adjust the seasoning as necessary.
Serve the chili hot with sliced avocado, cilantro, grated cheddar, lime slices and sour cream.
Notes
* Some chili recipes call for adding the canned beans shortly before it's done cooking. Here the pinto beans are added before the long simmer. They hold up well and don't get mushy.
* Chili can be made 2 days in advance. Let cool, cover and refrigerate. Rewarm over low heat.
* Chili can be frozen. Cool before transferring to a freezer-safe container.
Variation of a recipe from the Tasting Table Test Kitchen