"Beer is proof that God loves us and wants us to be happy." Whether Ben Franklin actually said this or not (there's debate out there) I think he'd be even happier with this beer and cheese combination. What better time for beer and cheese than the Super Bowl? I've been known to make food selections for the big game based upon either the home cities of the teams or where the game is being hosted. Perhaps you may want to pick some good cheddar or beer from one of those areas for this year's game?
I'd recommend any good quality beer – like cooking with wine you'd drink, you want to use a beer that you'd usually drink. I used a domestic microbrewery pale ale.
This recipe as is contains wheat/gluten but it is easily adaptable by using a rye or barley beer (for non-wheat eaters – most beers are wheat-free) or a gluten-free beer for those who are strictly gluten-free. Thanks to Jeanine R (with the help of Michelle B) I've discovered very good gluten-free pretzels from Snyder's of Hanover. My family even thought they were better than traditional pretzels.
I can attest that this is a crowd-pleasing recipe as I've served it to a few different groups who all devoured it. In case anyone was wondering I took this picture before I knew that the New England Patriots would be in the Super Bowl XLIX. So no need to read anything into the colors of the bowl!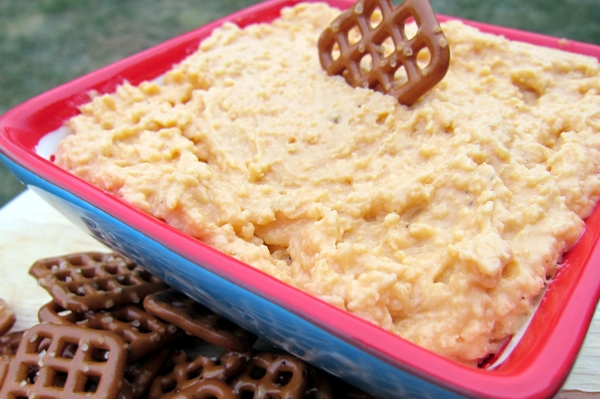 Ingredients
1 pound good quality sharp yellow cheddar cheese
1 large garlic clove
2 teaspoons Worcestershire sauce
¼ teaspoon ground, dry or powdered mustard (such as Colman's)
¼ teaspoon freshly ground black pepper
⅛ to ¼ teaspoon cayenne pepper (to taste)
¾ cup good quality beer
small pretzels and/or crackers for serving
Instructions
In a food processor fitted with a coarse shredder attachment, grate the cheddar cheese.
Transfer cheese to a bowl or plate.
Remove the shredder attachment and fit the food processor with the blade attachment.
Add the cheese back into the food processor.
Add the garlic, Worcestershire sauce, mustard, black pepper and cayenne pepper and pulse to combine.
With the processor running, slowly pour in the beer, blending until a smooth mixture forms.
Transfer the beer cheese to a serving bowl and cover with plastic wrap. Refrigerate for at least 3 hours or overnight (the longer it sits the more the flavors will develop).
Serve with small pretzels or crackers.
Notes
* Add three tablespoons prepared horseradish for some more flavor.
* Beer Cheese can be made a few days prior to serving as it keeps for a few weeks in the refrigerator.
* Ground, dry and powdered mustard are all the same thing.
* You can save a step by using already grated cheese, but I prefer to grate my own as it means you have more cheese options (and higher quality cheese).
* To make this gluten-free use a gluten-free beer and serve with gluten-free pretzels and/or crackers. I highly recommend
Snyder's of Hanover's
gluten-free pretzels.
Variation of a recipe from the Tasting Table Test Kitchen