The beef stew of our childhood was made of beef but also contained potatoes, carrots, celery and onions (maybe wine but never beer). Neither Ed nor I prefer our beef stew that way so when I found this recipe many years ago it became the standard in our house. Largely because it's just beef and onions, oh and with some really good Belgian beer and bacon. Not exactly a bad combination, right? Skip the carrots and celery and serve the potatoes mashed or boiled and on the side to soak up all the good stew sauce. The combination of the beef and the onions just about melts in your mouth.
Make the effort to find some Belgian beer – it's worth splurging on a big bottle of Chimay (any color will do) plus you'll have a bit extra to drink while you're cooking. You may want to buy a few bottles more to serve with the stew although hearty red wine also pairs well.
This is a great dish to make for a dinner party because you can make it ahead of time (up to three days) and reheat it on top of the stove or covered in the oven when your guests arrive. Just about everyone I've made it for has asked for the recipe (who doesn't love that when hosting a party?). I recommend making more than you think you'll need as you don't want anyone to be disappointed if they go back for seconds. Worst case – you have leftovers (which can also be frozen).
Gluten-Free/Wheat-Free Options: This is another recipe that I have adapted for my wheat-free world. I use a gluten-free flour (Cup4Cup) instead of all-purpose white flour for dredging and it works out perfectly. You'll also need to use a gluten-free beer (many beers are already wheat-free so if you're just giving up wheat, you may be okay with some more traditional Belgian beers).  Check out Green's Gluten Free Beers that have been craft brewed in Belgium since 2004.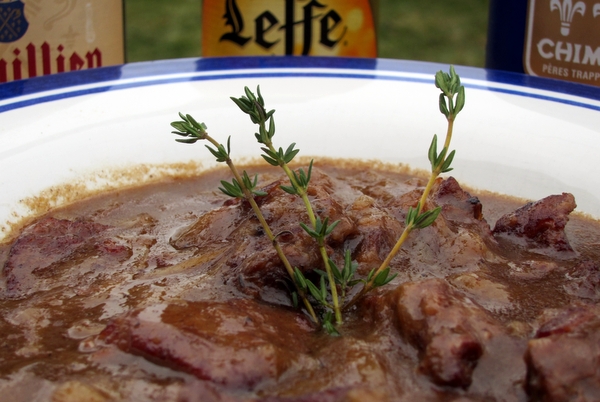 Ingredients
2-1/2 pounds large onions
3 pounds boneless beef chuck
½ cup all-purpose flour or gluten-free flour
4 thick bacon slices
4 tablespoons canola or olive oil
½ cup water
12 ounces Trappist ale (or other full bodied Belgian ale)
1 cup beef broth
1 tablespoon packed brown sugar
1 tablespoon red wine vinegar
1 bay leaf
¼ teaspoon dried thyme, crumbled
Instructions
Preheat oven to 325°F.
Thinly slice onions – I like to use my food processor with the slicing disk.
Cut beef into 1-1/2-inch cubes and pat dry.
Place flour in a shallow bowl and season with salt and pepper.
Chop bacon into small pieces.
In a large Dutch oven (5 to 7 quarts) cook bacon over medium heat, stirring occasionally, until golden.
While bacon is cooking, dredge beef in seasoned flour, shaking off excess.
Transfer bacon with a slotted spoon to a large plate.
Add 1 tablespoon oil to fat remaining in Dutch oven (if needed) and heat over medium heat until hot but not smoking.
Without crowding, brown beef in batches on all sides, adding 1 to 2 tablespoons more oil as needed and transferring beef as browned to the plate with the bacon.
Add 1 tablespoon oil to skillet and cook onions over moderate heat, stirring occasionally and adding water a few tablespoons at time as onions begin to stick, until golden brown and soft, about 15 to 20 minutes (don't rush this step).
Add ale and broth and bring to a boil, scraping up brown bits.
Stir in brown sugar, vinegar, bay leaf, thyme, and salt and pepper to taste.
Add beef and bacon mixture back into the Dutch oven.
Bring beef mixture to a boil and cover pot.
Transfer pot to oven and braise beef until very tender, about 2-1/2 hours.
Discard bay leaf before serving.
Notes
* To make it gluten-free, I recommend using
Cup4Cup
gluten-free flour in place of all-purpose flour and a gluten-free beer. If you're just avoiding wheat than many beers are already wheat-free so you may be okay with some more traditional Belgian beers.
* Stew may be made 3 days ahead. Cool stew, uncovered, before chilling, covered.
* Reheat on top of the stove (about 20 minutes) or in the oven (covered) at 325°F for about 30 minutes.
* Stew can be frozen. Cool stew, uncovered, before freezing, covered.
* Recipe can be doubled. Depending on the size pots/pans you have you may need to use two on top of the stove and oven.