A few years ago our friend, Chris H, introduced me to the Greyhound cocktail. It was a perfectly refreshing summer drink for me especially since I love grapefruit juice. I always assumed it was named for the dog but I recently learned that it was named for bus company (a bit of drink trivia for you). Apparently, this drink was served at the restaurants within their bus terminals. It was first made with gin but now many recipes call for vodka.
Given that I already liked a Greyhound I was particularly pleased when Ed discovered the Greyhound's French cousin – a Bichon Frisé (no relation to a French bus line). It's made with grapefruit juice and equal parts vodka and St. Germain plus a splash of lemon juice to brighten it up. St. Germain is made from elderflower blossoms plucked from the French hillsides in the spring. While St. Germain may sounds a bit "girly" Ed and I agreed that it balances out the tartness of the grapefruit juice quite nicely.  While this recipe calls for equal parts vodka and St. Germain you may want to adjust the amount of St. Germain you use depending on how sweet your grapefruit juice is.
I'd recommend a French vodka (in keeping with the theme) such as Grey Goose or Ciroc (made from grapes so it's gluten-free/wheat-free) but any vodka will do. St. Germain (also gluten-free) was the first elderflower liqueur I encountered and has been a staple in our house for a few years. The height of the Florida and Texas grapefruit season is right around Christmas so if at all possible use freshly squeezed juice for the best cocktail.
Don't want to be caught ordering a Bichon Frisé in a bar? Ask for a Greyhound with equal parts vodka and St. Germain and you're all set.
Holiday Tip:  This is an easy drink to mix up in a pitcher.  And even though it's nice for the warm weather it also makes a refreshing holiday cocktail. St. Germain makes anything festive in my book.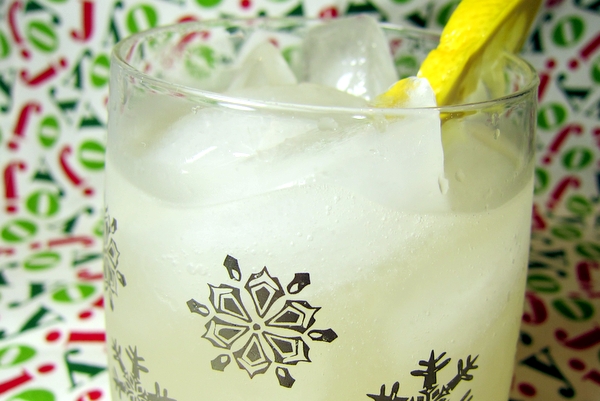 | | | |
| --- | --- | --- |
| Bichon Frisé Cocktail | | Print |
Ingredients
2 ounces vodka (preferably French)
2 ounces St. Germain (Elderflower liqueur)
4 ounces fresh grapefruit juice
2 lemon wedges
Instructions
Combine vodka, St. Germain and grapefruit juice with ice in a cocktail shaker.
Squeeze lemon wedge into the shaker and then add wedge to mixture.
Shake vigorously.
Pour over fresh ice into a chilled cocktail glass.
Notes
* For a gluten-free/wheat-free version use a grape or potato-based vodka.