I know – you're thinking that I'm posting a recipe for the orange juice and grenadine version of this drink. While it's by far the more popular version this one is the original and far better. Ed and I cannot make a trip to the Phoenix area without stopping by the Arizona Biltmore Hotel to admire this building with Frank Lloyd Wright influences found in the tiles, statues and throughout. Wright spent four months as a consultant when it was being built in the late 1920's but it was actually designed by Albert Chase McArthur. Enough of the architecture lesson (I can't help it with my art history background).
This drink dates to the late 1930's or early 1940's and is the creation of Gene Sulit – an employee of the Biltmore for more than 35 years. It's said that his favorite job was that of bartender. He created this drink for a longtime guest who asked for a new tequila drink to enjoy poolside. It is reminiscent of the pinks and purples you find in a Phoenix sunrise and is topped of by the rising sun in the form of an orange slice.
As an aside the more popular Tequila Sunrise that's made with tequila, orange juice and grenadine was created at the Trident in Sausalito, CA – a restaurant that I frequented as a young child living in the San Francisco area.
This is a light and refreshing drink that's easy to make and can be enjoyed poolside or inside so as to evoke the feeling of being outside. While most drinks are stirred, do not be tempted to do that to this drink as you'll lose the sunrise effect.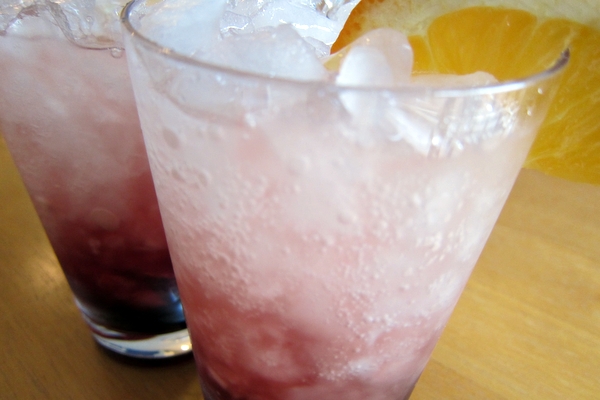 Ingredients
1-1/4 ounces high quality Tequila (white or silver)
¾ ounce Crème de Cassis
Fresh Lime juice from 2 slices
Club soda
Orange slice
Instructions
Fill glass with cracked ice.
Add tequila, Crème de Cassis and a squeeze of lime. Fill with soda. Do not mix.
Garnish with fresh orange wheel.