I knew I was onto something years ago when I started to make this biscotti and various members of Ed's family told me it was some of the best they'd ever had. This was a huge compliment coming from a family of Italians who take their Italian cookies and pastries very seriously! More recently Carolyn R, another Italian who is serious about her food, paid me the same compliment.
Biscotti may look hard to make but  that couldn't be further from the truth. It's very forgiving – if your log of dough looks a bit messy it will tidy itself up as it bakes. It's also a blank canvas as far as flavor combinations. I've included ingredients for both Almond Biscotti and Cranberry-Orange Biscotti but this recipe can be adapted to whatever happens to be your favorite flavor combination.
This biscotti stands up well on its own but is also wonderful dipped in a nice hot cup of coffee or cappuccino. It's perfect to have on hand around the holidays as family and friends come to visit.
Holiday Tip:  These can be made up to a month ahead of time and stored in an airtight container at room temperature. I recommend hiding them so they don't all disappear before you plan to serve them or give them as gifts!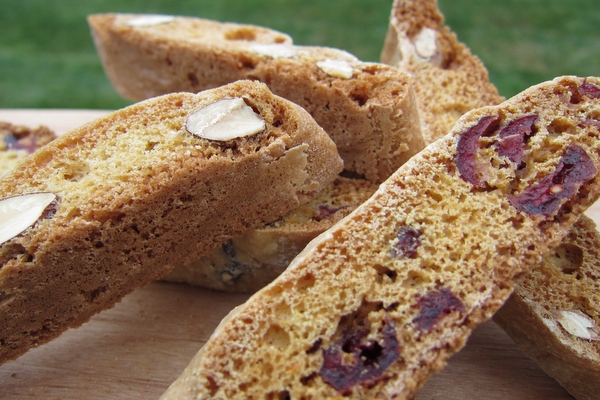 Serves:
Makes about 3 dozen
Ingredients
1⅔ cups all-purpose flour
½ teaspoon baking soda
¼ teaspoon salt
2 large eggs
2 teaspoons liqueur or citrus juice
1 teaspoon vanilla extract
¾ cup sugar
⅔ cup whole nuts, dried fruits and/or chocolate chips
Zest of an orange, lemon or lime (if needed)
For Almond Biscotti, use 2 teaspoons Amaretto or other almond liqueur and ⅔ cup whole almonds, with or without skins
For Cranberry-Orange Biscotti, use 2 teaspoons Grand Marnier or other orange liqueur, ⅔ cup dried cranberries and zest of one orange
Instructions
Preheat oven to 300°F. Line a baking sheet with parchment paper.
Put flour, baking soda and salt into a medium bowl and whisk just to blend.
In another bowl, whisk together eggs, liqueur/citrus juice, zest (if using) vanilla and sugar.
Add dry ingredients to the liquid and stir with a wooden spoon to mix.
Add nuts/dried fruits and/or chips, continue to mix, just until well incorporated. (Since the dough is stiff, sticky and hard to stir, you might find it easier just to reach in a mix with your hands).
Flour your hands and lift half of the dough onto one side of the parchment-lined baking sheet. Pat and squeeze the dough into a chubby log 12 to 13 inches long. Don't worry about it being neat or smoothing the dough – it will even out as much as it needs to in the oven. Repeat with the other half of the dough, leaving about 3 inches between the logs.
Bake the logs for exactly 35 minutes.Transfer pan to a cooling rack and let cool for at least 10 minutes.
At this point, the logs can remain on the pan overnight, if that's more convenient for you.
Using a serrated knife, cut the logs into ½-inch-thick slices, cutting straight across or diagonally. (You can make the biscotti thinner or thicker, as you wish and adjust the baking time accordingly.)
Lay the biscotti on their sides on an oven-safe cooling rack – you may need second rack – then place the cooking rack in the 300°F oven, on the oven rack. Or, you can place the biscotti directly on the oven rack. (Baking biscotti like this allows the oven's heat to circulate around the biscotti, so there's no need to turn them over.)
The biscotti may need to bake for as long as 15 minutes, but it's a good idea to start checking them after 10 minutes. When the biscotti are golden brown, dry and crisp, remove the rack(s) from the oven.
Let biscotti cool to room temperature before packing them for storage.
The biscotti will keep in an airtight container for about a month.
Notes
*You may vary the nut and liqueur/liquid combinations. Try hazelnuts and Frangelico or pistachios, lemon zest and lemon juice or chocolate chips, orange zest and Grand Marnier.
* If you're using a combination of whole nuts, dried fruits and/or chocolate chips, just make sure the total adds up to ⅔ of a cup.
* It's fine to use whole nuts as you cut through them when you slice the biscotti prior to the second baking.
* I like to make two batches at once - with different added ingredients in each batch. I do the "second baking" directly on the oven rack and two batches fits perfectly on one of my oven racks.