Looking for an alternative to hummus? Try this dip which is both tasty and healthy as it packs a high amount of non-animal protein and fiber.  The small amount of fat comes from the oil used to cook the onions and garlic.
While this is intended to be served cold or at room temperature, you could put it in an heat-proof dish and sprinkle some cheese on it for a warm dip.
Either way it's just in time for a Cinco de Mayo or warm weather gathering. And, you don't have to feel guilty if you go back for seconds.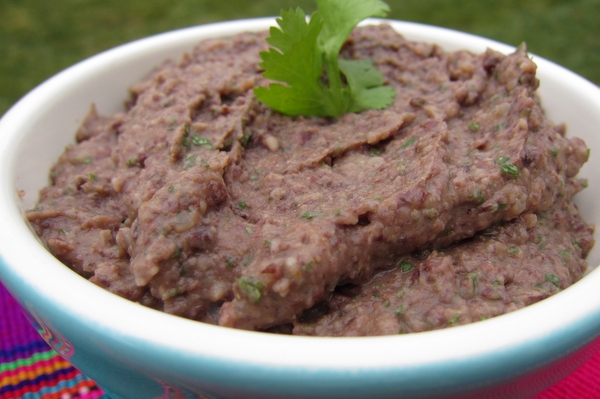 Serves:
Makes about 3 cups
Ingredients
½ medium onion, chopped
4 garlic cloves, minced
1 teaspoon vegetable or olive oil
2 15-ounce cans black beans, rinsed and drained well
3 tablespoons fresh lime juice
1 tablespoon balsamic vinegar
¼ cup packed fresh cilantro, washed well and spun dry (about a small fist size)
1 teaspoon ground coriander
1 teaspoon ground cumin
¼ teaspoon cayenne (or to taste)
salt and freshly ground black pepper to taste
2 tablespoons water
Tortilla chips or vegetables for serving
Instructions
In a medium skillet heat oil over medium low heat. Cook onion and garlic until onion is translucent. Remove skillet from heat and let mixture cool.
In a food processor blend beans, lime juice, balsamic vinegar, cilantro, ground coriander, cumin and cayenne pepper and water until smooth, adding up to 2 tablespoons more water if necessary to reach desired consistency. Add onion mixture and blend until smooth
Chill dip, covered, at least 3 hours and up to 2 days.
Serve dip with baked tortilla chips or vegetables.
Notes
Alternative: Place dip in a heat-proof dish, sprinkle with grated cheese (preferably a Mexican cheese blend) and bake at 350°F until heated through for about 15-20 minutes.