With so many good fresh ingredients available at this time of year it's very easy to come up with a tasty craft cocktail. Here I muddle fresh blackberries procured from the Malvern (PA) Farmers Market with mint (which grows like weeds at this time of year) and fresh lime juice. Top it off with vodka and ginger beer for a wonderfully flavorful and refreshing cocktail.
A drink called a buck or a mule is made with ginger beer or ginger ale (both non-alcoholic) and citrus fruit – in this case lime juice. I like Fentimans Ginger Beer but any ginger beer you like will work. Ginger beer has more of a bite than ginger ale.
It's colorful, too, so be sure to serve it in clear glasses or mason jars.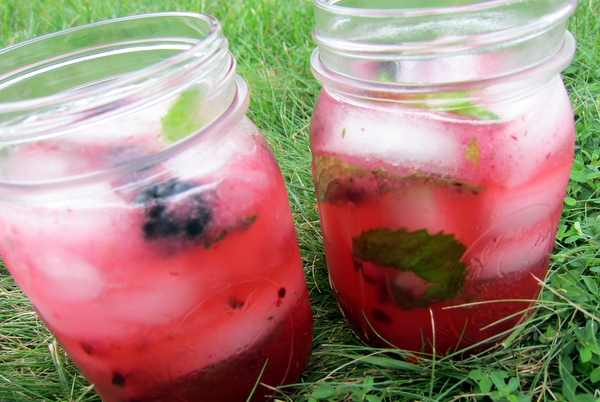 Ingredients
6 fresh blackberries plus 2 for garnish
6 fresh mint leaves
1 ounce freshly squeezed lime juice (~3/4 lime)
1-1/2 ounces Vodka
4 to 6 ounces of good quality ginger beer
Instructions
Place 6 blackberries, mint and lime juice in a highball glass.
Using a wooden muddler or back of a wooden spoon, muddle blackberries, mint and lime juice.
Fill cup with ice cubes.
Pour vodka and mix with a spoon.
Top off with ginger beer and mix one more time.
Garnish with 2 blackberries and serve in a clear high ball glass or mason jar.