We recently attended a big family reunion on my stepmother's (Peggy T) side that's been in the works since last summer. Early on I was assigned a signature cocktail and needless to say I took this assignment quite seriously. After all how often to 49 of my favorite people gather in one place? Our last reunion was in 2002 when our group was only 30 people so it had been a long time.
How do I make something that will appeal to this broad an audience and maybe even satisfy the grandchild generation (of which there are 17)? I considered some family favorites like a Dark Rum and Tonic or a brand new favorite, a Rosé Aperol Spritz, but decided both of these would be too limiting. Then I decided that a fruit and herb syrup was the way to go because it could be used as an ingredient in many drinks.
I settled on blackberries as I was inspired by a blackberry-based sparkling wine cocktail Peggy had enjoyed at the Inn at Shelburne Farms in Shelburne, Vermont called "Lila's Garden" last summer. I added to it fresh rosemary which gave it a bit more of woody scent and flavor and used Turbinado (raw) sugar instead of white sugar which adds a very slight caramel flavor.
While the recipe here is for a rum libation, you can use this syrup to make a variety of drinks. I also brought vodka (bourbon worked well in our taste test, too) and Prosecco – mix 3 ounces of Prosecco (or other sparkling wine) with 1-1/2 teaspoons of syrup. To make it kid-friendly I mixed it with ginger ale or water (for the very little ones who don't yet like bubbles) – a twist on a Shirley Temple. The little ones were coming back for seconds even faster than their parents and grandparents. It was so much fun making drinks for a very appreciative crowd.
The McCawely family badge and motto "Dulce Periculm" ("Danger is Sweet") made for perfect cocktail napkins to accompany this special drink.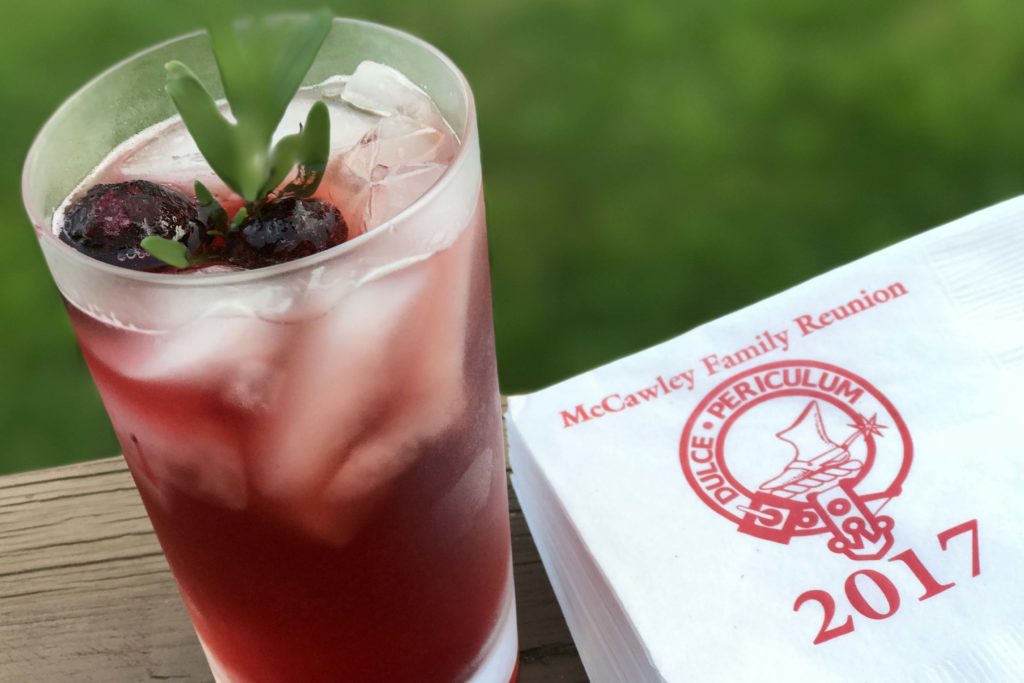 | | | |
| --- | --- | --- |
| Blackberry-Rosemary Rum Cocktail | | Print |
Ingredients
1 cup fresh/frozen blackberries
1 tablespoon coarsely chopped fresh rosemary
1 cup water
1 cup Turbinado (raw) sugar
2 ounces amber rum
1 ounces Blackberry-Rosemary syrup
Seltzer
Garnish with a fresh blackberry and sprig of rosemary
Instructions
For Syrup
In a small saucepan, combine blackberries (no need to thaw if frozen), rosemary, water and sugar over medium-high heat. Stir until sugar dissolves while pressing blackberries against the side of the pan.
Bring to a boil and let boil for a minute.
Remove from heat and let steep for an hour or two so flavors can develop.
Strain syrup into a storage container.
Store for up to 2 weeks in the refrigerator or freeze.
For Cocktail
Fill highball glass with ice.
Add rum and blackberry-rosemary syrup.
Top with seltzer and stir.
Garnish with a fresh blackberry and sprig of rosemary.
Notes
* The syrup recipe makes about 1-1/2 cups (or 12 ounces) – enough for 12 cocktails.
* This syrup freezes well so you can make it ahead of time.
* You can use white sugar in place of Turbinado (raw) sugar if prefer.
* Great as a mixer for cocktails but also mixes well with club soda.