'Tis the season for berries and fresh herbs. Both of these provided inspiration when I was looking for a special drink to make for this month's Gourmet Dinner Club gathering. This group of ladies loves Proseco (well, really anything bubbly), so I wanted to come up with something fun to serve for our summer gathering. I decided on a fresh blackberry and rosemary syrup to go with the sparkling wine.The rosemary adds a level of complexity to the yummy sweet berries – perfectly ripe at this time of the summer. And, everything is always better when you add a bit of bubbly to it.
This syrup is very versatile – you can add it to other cocktails, sparkling water, lemonade or even use it to top vanilla ice cream.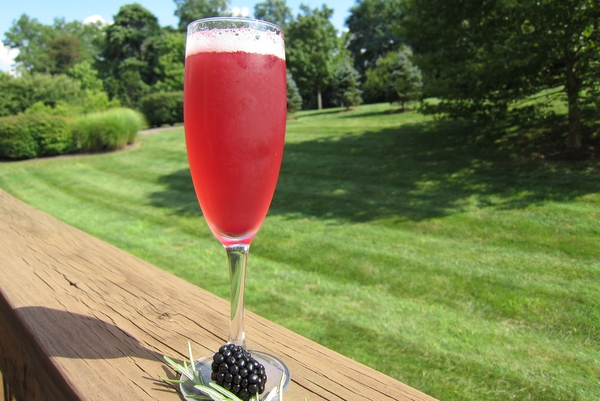 | | | |
| --- | --- | --- |
| Blackberry-Rosemary Sparklers | | Print |
Ingredients
2 cups of blackberries (about 10-12 ounces)
6 tablespoons sugar
⅔ cup water
1½ tablespoons finely chopped fresh rosemary
1 (750-ml) bottle Prosecco or other sparkling wine, chilled
Garnishes: fresh rosemary sprigs and blackberries
Instructions
Over low to medium heat, simmer blackberries, sugar, water, and rosemary in a small heavy saucepan, uncovered, stirring occasionally, until thickened and reduced by about two thirds, about 30-40 minutes.
Pour into a very fine sieve set over a glass measuring cup (there will be about ⅓ cup). Discard solids (do not press on them). Chill syrup, covered, until cold.
Pour 1½ teaspoons syrup into a small flute and fill glass with Prosecco.
Notes
- This recipe makes more syrup than you'll need for 6 drinks. Use additional for extra cocktails or stir it into sparkling water or lemonade or use it on top of ice cream. - Syrup keeps, covered and chilled, 3 days or frozen for up to 3 months.
Source:  variation of a recipe from Gourmet (September, 2002)