It's taken me a while to come around to the taste of Campari. My dad's been a fan for years but it wasn't until recently that I was won over. I always thought it tasted a bit like bark and in doing some research for this article it turns out I was right.
Originally made in 1860 Campari is an Italian aperitif made from an infusion of herbs, fruit (chinotto – a citrus-like fruit  from the eastern Mediterranean) and the bark of a cascarilla tree (native to the Bahamas). It is characterized by a dark red color and a bitter taste (considered part of the "Bitters" family of drinks).
While many enjoy Campari and soda for a refreshing drink I prefer mine with a few more ingredients. In this recipe the sweetness of the blood orange juice balances out the bitterness of the Campari plus it intensifies the red of the Campari. While the types of herbs used in Campari are a proprietary blend the muddled basil accentuates the herbal flavors. A good quality tequila gives it a smooth finish. If you're not a tequila fan light rum, vodka or gin work too.
Gluten-Free/Wheat-Free Options:  Campari is gluten-free so as long as the other liquor you use to make this drink is you're safe.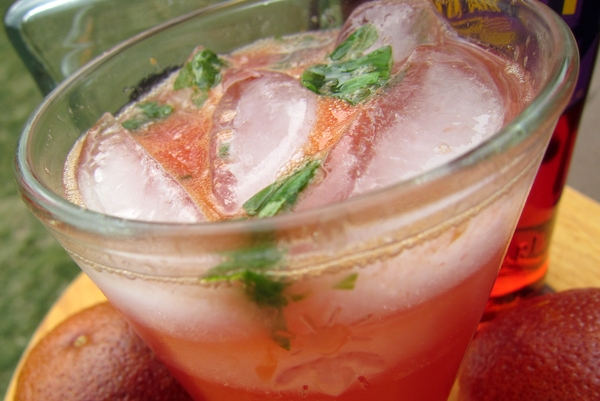 | | | |
| --- | --- | --- |
| Blood Orange and Basil Campari Cocktail | | Print |
Ingredients
3 ounces high quality white or silver tequila
1-1/2 ounces Campari
4 ounces freshly squeezed blood orange juice (~ 2 to 3 oranges)
2 ounces simple syrup (see Notes)
6 basil leaves, roughly torn
Club soda or seltzer, chilled
Instructions
Place basil and simple syrup in a highball glass.
Using a wooden muddler or back of a wooden spoon, muddle basil and syrup together to form a good syrup.
Fill cup with ice cubes.
Pour in blood orange juice and tequila. Mix with a spoon.
Top off with club soda or seltzer and mix one more time.
Notes
* Not a tequila fan? Substitute light rum, vodka or gin.
* At this time of year my local Wegmans sells freshly squeezed blood orange juice making this cocktail even easier to make.
* SIMPLE SYRUP
1 cup (8 ounces) water
1 cup granulated sugar
Bring the water to a simmer in a saucepan set over medium-high heat. Add the sugar and stir until it completely dissolves. Remove the pan from the heat. Set aside to cool to room temperature. Pour the syrup into a clean 1-pint bottle, cap it and refrigerate it until needed. Makes 1-1/2 cups and keeps two months or longer in the refrigerator.