I love color and blood oranges have to be one of my favorite fruits from a color standpoint. I particularly love that a blood orange could look mostly like a standard orange on the outside, but when you cut into it you find a beautiful deep crimson surprise. In case you were curious the wonderful red color of the flesh is due to the presence of antioxidant pigments seen in many flowers and fruit but not typically found in citrus fruit.
This syrup is very easy to make and packs a lot of flavor. I've paired it with Prosecco (Italian sparkling wine) or any sparkling wine to make a Sparkler. For a recent dinner party, I poured it into a clear glass pitcher (must show off the color!)  and had it at the bar. In addition to serving it with Prosecco we also mixed it with vodka and bubbly water to make a slightly sweet cocktail.
Living in the northeast, especially during this winter, citrus fruits are a small glimpse of warmer weather. Most blood oranges are grown in Italy, so while you're sipping this beverage imagine yourself sitting along the Mediterranean coast in much warmer weather.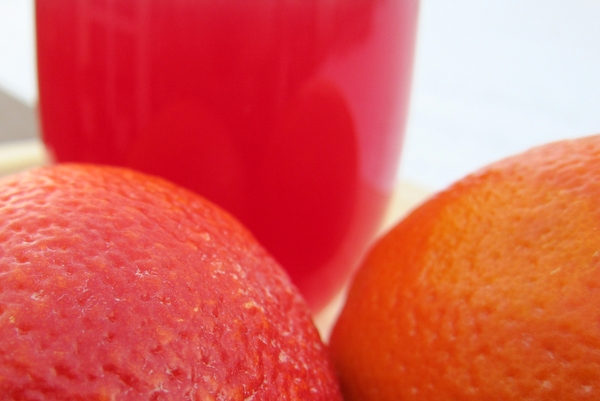 | | | |
| --- | --- | --- |
| Blood Orange Sparkler | | Print |
Serves:
Makes 2 cups of syrup
Ingredients
1 cup of blood orange juice (from 2 blood oranges)
1 tablespoon blood orange zest (from 2 blood oranges)
1 cup sugar
1 cup water
Prosecco or any Sparkling Wine
Instructions
Wash and dry the blood oranges well. Zest the blood oranges. Mix zest and sugar in a bowl until the sugar appears fluffy and moist. Cover tightly and let sit overnight (or minimum of a few hours) at room temperature.
Juice blood oranges and refrigerate juice.
The next day: In a medium saucepan over medium-high heat, combine blood orange juice, blood orange sugar and water, stirring to dissolve the sugar. As soon as syrup starts to boil, remove from heat and let cool.
Strain syrup into a glass container so that it is clear. For the first straining I use a wider mesh strainer and the second time I use a finer mesh strainer.
Store syrup in the refrigerator for up to 2 weeks.
To make the Sparkler: Place 2 tablespoons of Blood Orange Syrup in a Champagne flute or white wine glass. Top off with Prosecco or sparkling wine. By adding the bubbly last it "stirs" naturally.
Notes
* 2 cups of syrup is about 16 servings (or glasses). To use all the syrup you'll need about 2-1/2 bottles of Proscecco or Sparkling Wine.