Do spell it blue cheese or bleu cheese? Being of French descent, I tend towards the French spelling and pronunciation of things (despite the fact that I don't actually speak French) and was a bit surprised to learn that referring to the cheese as blue rather than bleu is actually more accurate.
According to Grammarphobia's post Is this cheese blue or bleu? the English spelling (as it refers to the cheese) pre-dates the French spelling by about 150 years. The first reference to blue cheese dates to 1787 (coincidentally the same year the United States of America adopted the Constitution – I'm still working on a connection between these two facts).
I was fortunate to receive a lovely gift of a few pounds of fresh pecans from Mark and Peggy J and was looking for something creative to do with them. I came across this simple recipe (just three ingredients) and decided to give it a try. I like pecans and blue cheese in a salad but hadn't thought to coat the pecans in the blue cheese
I found the combination of the tangy cheese to go nicely with the sweet nut. I used a medium blue cheese so the taste isn't overwhelming and probably is just right for a crowd. I happen to prefer a more intense blue so I may try that for my next batch (assuming that the recipients also like a stronger blue). I also might add a dash of cayenne pepper.
This is a very easy snack to make for the holidays. You can make them a few weeks in advance and store in the refrigerator. You can also freeze these for a few months – they take about 30 minutes to thaw at room temperature. And, they pair nicely with a festive holiday cocktail.
Gluten-Free/Wheat-Free Note:  I just read this The Spruce's article Blue Cheese Is Gluten-Free:  A Research Update. This is good news for those on a gluten-free diet as blue cheese has been found to have no traces of detectable gluten.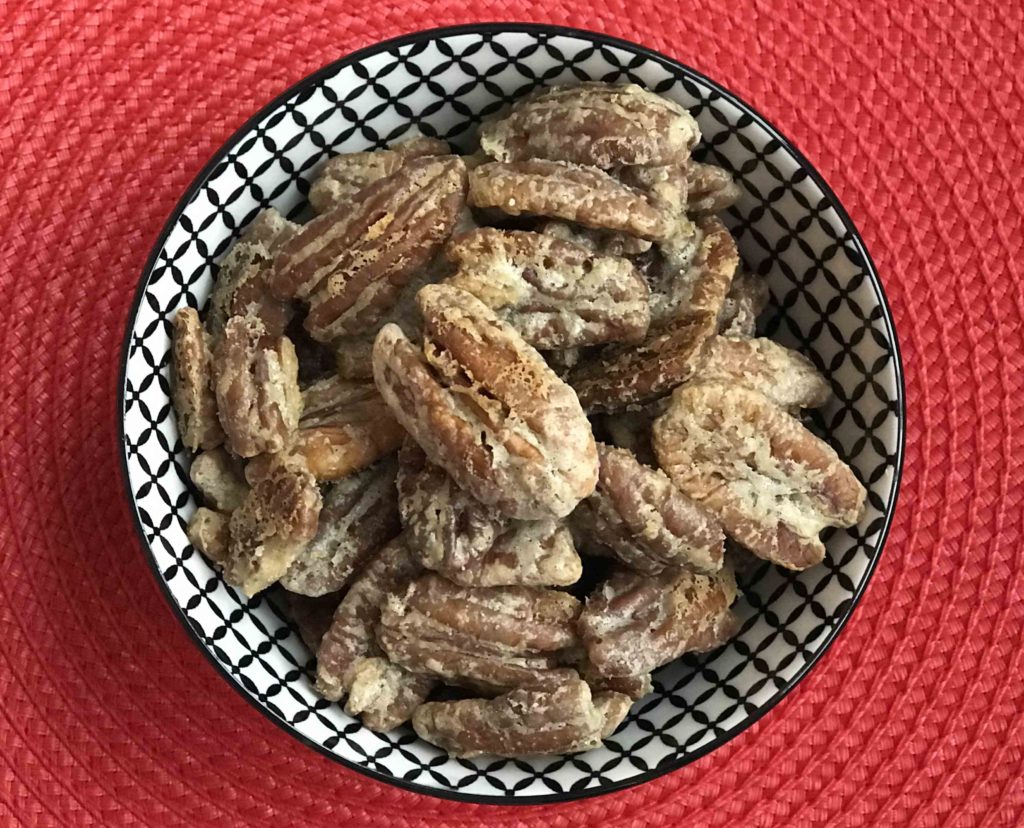 Ingredients
2 tablespoons unsalted butter
½ cup (~2.5 ounces) crumbled medium blue cheese (see Notes)
3 cups (~12 ounces) raw pecan halves
dash of cayenne pepper (optional)
Instructions
Preheat oven to 350°F. Line a large cookie sheet with parchment paper, or spray with nonstick spray.
In a medium saucepan, melt butter and blue cheese; stir until blended
Stir in pecans until coated. Optional: add a dash of cayenne pepper.
Spread pecans onto the prepared cookie sheet and roast for about 10 to 15 minutes, or until toasted and fragrant. Start checking at 10 minutes.
Let cool. Store in a covered container or bag in the refrigerator for a few weeks or a few months in the freezer.
Notes
* Recipe can be doubled – use two separate baking sheets.
* If you like a strong blue cheese flavor, use a more intense blue cheese.