Super Bowl LII is particularly special this year because I live in Philadelphia Eagles territory!  I do not profess to be a football fan but I do like it when the Philadelphia teams do well as it makes the City of Brotherly Love proud. What I do love about the Super Bowl is an excuse to come up with creative culinary treats. That's much more up my alley. So much so that I have another Super Bowl recipe to share next week.
Chicken wings are synonymous with the Super Bowl. Regardless of whether Philadelphia is actually participating in the big game, since 1993 it has played host the Wing Bowl. It's a crazy wing eating contest – last year's winner ate 409 wings while 20,000 people looked on.
I'm hoping that those who make these wings will savor them while consuming in moderation. This recipe combines orange marmalade (sweet), Dijon mustard (a bit of spice), red pepper flakes (more spice) and bourbon (just a bit of kick). I recommend letting the wings marinate for a minimum of a few hours and overnight for optimal flavor. They are so good that they don't need dipping sauce (no blue cheese or ranch dressing needed). If you must dip, you can cook down the reserved marinade and use it as a sauce.
These are best baked in the oven on a wire rack as the sugar in the marmalade will likely cause them to burn. If you do decide to grill them be sure to watch them carefully.
Stay tuned for another yummy recipe that is sure to also please your Super Bowl crowd next week.
Gluten-Free/Wheat-Free Notes:  While the ingredients used to make bourbon contain gluten many believe that the distillation process removes the gluten. As a result some with gluten sensitivities are okay with bourbon while others are not. If you're concerned use rum (distilled from sugar cane and gluten-free) in place of bourbon (it will taste just as good).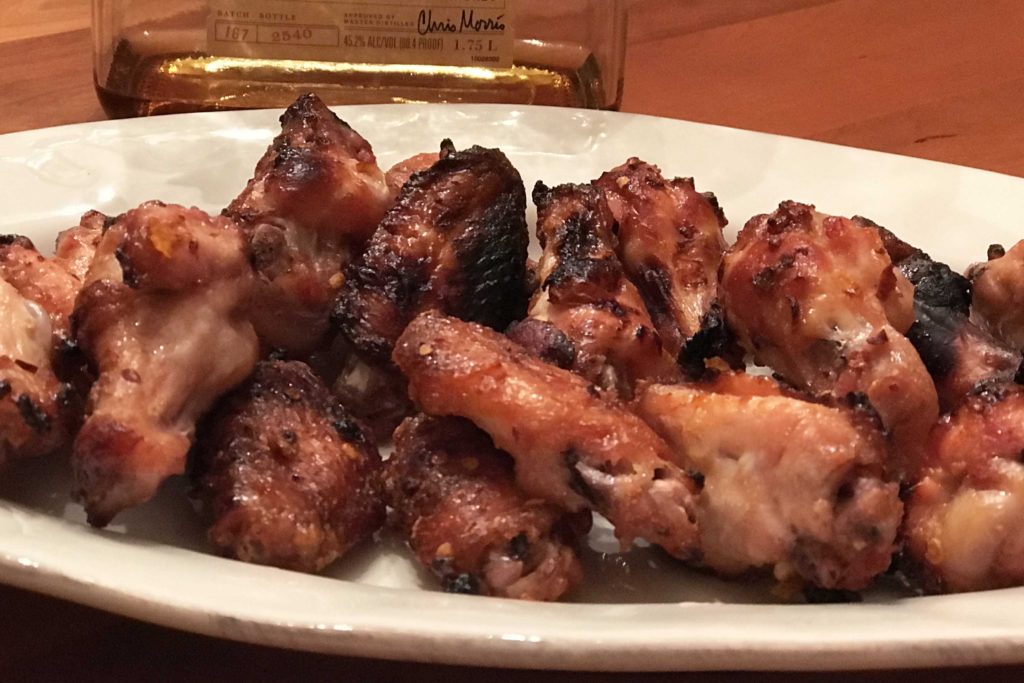 | | | |
| --- | --- | --- |
| Bourbon-Marmalade Chicken Wings | | Print |
Ingredients
2 pounds chicken wings
1 cup orange marmalade
3 tablespoons Dijon mustard
3 tablespoons bourbon (see Note)
4 garlic cloves, minced
1 teaspoon red pepper flakes
Instructions
Mix marmalade, mustard, bourbon, garlic and red pepper flakes in a large bowl. Toss chicken wings with marinade. Refrigerated a few hours or overnight (preferably).
Preheat oven to 400°F. Cover a large cookie sheet with aluminum foil and place a heat-proof cooling rack on top of cookie sheet. Place marinated wings in a single layer on cookie sheet. Reserve leftover marinade.
Cook wings for 45 to 50 minutes or until cooked through and crispy.
While wings are cooking, place reserved marinade in a pan. Bring to a boil over medium-high heat and boil for 2 minutes (this kills the bacteria from the chicken). Reduce to low to keep warm.
Serve wings warm or at room temperature with sauce.
Notes
* If you really love wings, this recipe only feeds 2 people - adjust accordingly. You'll need to use two cookie sheets.
* If you want to make this truly gluten-free rum in place of bourbon.