Fudge usually reminds me of summers – boardwalks at the beach or your town's fair. Think of this fudge as a more cosmopolitan version.  It's full of chocolate, not overly sweet, plus it contains bourbon.The perfect occasion to showcase it? New Year's Eve. Everyone else is getting dressed up so why shouldn't dessert?
Bourbon is found not only in the fudge but also in the sugar sprinkled on top (fear not as the bourbon is subtle in flavor). You'll need to start this recipe the night before you intend to serve it as the bourbon sugar has to dry in the oven overnight (I know it sounds odd but it works). Since chocolate plays a starring role in any fudge be sure to use the best you can find like Scharffen Berger and Guittard. Same holds for the bourbon – I used Woodford Reserve.
We are looking forward to a special New Year's Eve dinner at our dear friends' house where this fudge will join with the other fabulous sweet treats that get passed around the table just before midnight.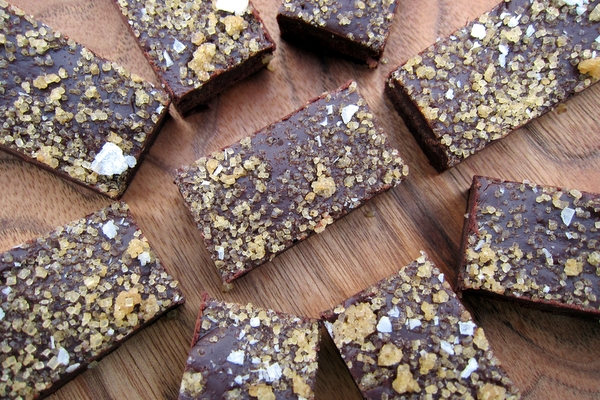 | | | |
| --- | --- | --- |
| Bourbon Sugar Chocolate Fudge | | Print |
Serves:
Makes 32 to 48 pieces
Ingredients
½ vanilla bean, split lengthwise
½ cup turbinado (raw sugar) or demerara sugar
1 tablespoon good quality bourbon
Nonstick vegetable oil spray
10 ounces high quality bittersweet chocolate (preferably 72%), coarsely chopped
4 ounces high quality unsweetened chocolate, coarsely chopped
1 14-ounce can sweetened condensed milk
10 tablespoons (1-1/4 sticks) unsalted butter, cut into small pieces
2 tablespoons good quality bourbon
1 tablespoon light corn syrup
¼ teaspoons kosher salt
1 vanilla bean, split lengthwise
Flaky sea salt (such as Maldon)
Instructions
Bourbon Sugar: Preheat oven to 150° or as low as your oven will go. Using a small paring knife scrape the seeds from the vanilla into a small bowl. Stir in sugar and bourbon. Spread on a parchment-lined baking sheet and let dry out in oven overnight, leaving door slightly ajar. Mixture should feel like the original sugar again in the morning (meaning it's back to it's dry state).
Fudge:
Line an 8x8" baking dish with parchment paper, leaving a generous overhang on 2 sides; lightly coat with nonstick spray.
Heat chocolates in a heatproof bowl set over a saucepan of simmering water (do not let bowl touch water) on medium heat, stirring occasionally, until almost completely melted (just barely hot). Set aside.
Combine condensed milk, butter, bourbon, corn syrup and kosher salt in a small saucepan; scrape in vanilla seeds and add pod. Heat over medium heat until barely hot (same as the chocolate).
Remove the vanilla pod from the milk mixture.
Gently stir one quarter of milk mixture into chocolate with a rubber spatula. Add another quarter of milk mixture, stirring to incorporate (it might look broken and greasy; don't worry, it will come back together). Continue with remaining milk mixture in 2 additions, stirring vigorously until fudge is very shiny and almost elastic, about 5 minutes. Scrape into prepared pan and smooth top. Sprinkle with bourbon sugar and sea salt. Let cool, then cover and chill at least 4 hours.
Turn out fudge onto a cutting board and slice into rectangles, squares or triangles.
Notes
* You'll need start this recipe the night before you intend to serve it as the sugar needs to dry overnight in a very low temperature oven.
* You likely will only need half of the sugar mixture. Use the rest to sprinkle on top of ice cream, add to your coffee or as a rim for a festive cocktail.
* Store bourbon sugar in an airtight container at room temperature for up to 2 months.
* Fudge can be made two weeks in advance. Store in an airtight container in the refrigerator.
Source:  Variation on recipe from 
Bon Appétit
, December, 2014