As a non-wheat eater buckwheat is one of the biggest misnomers of all time. There's absolutely no wheat in buckwheat – it's entirely wheat/gluten-free. Buckwheat is not a grass (like wheat) but a seed. It is most closely related to greens like sorrel and rhubarb and has many health benefits.
I was rather surprised when I found a variation of this recipe in a recent issue of Bon Appétit and no mention was made of them being gluten-free. Blondies had been on my mind so I decided to give it a try with my own additions of pecans and dark chocolate chips. Ed said they tasted like "more" so I took that as a good sign. I've since served them as an accompaniment to ice cream to a few different people who may now be buckwheat converts.
Unlike traditional blondies you heat the butter in this recipe until it's almost burning ("brown butter") which provides a great nutty contrast to the earthiness of the buckwheat. Don't be turned off by the color as they're a bit grey. That's the buckwheat. Think about when cookies and cream ice cream melts – it's kind of that color. Remember that it still tastes good. There's also more eggs that in traditional blondies. It probably wouldn't be fair to call these blondies "healthy" but you are likely getting more protein than in a traditional blondie or brownie.
Regarding cross-contamination, care must be given during the growing, milling and processing of buckwheat so that it doesn't come in contact with wheat. If you are concerned about this make sure your buckwheat flour is gluten-free (try Arrowhead Mills' Organic Gluten-Free Buckwheat Flour).
Want to learn more about buckwheat? Check out, "Are You Eating Enough Buckwheat?" from the Huffington Post. Learn why buckwheat is one of the healthiest foods that you're likely not eating.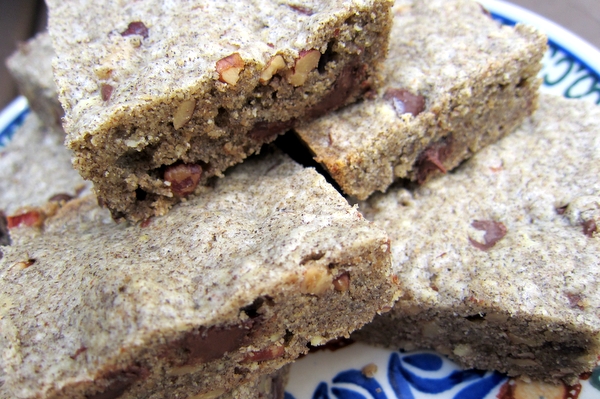 | | | |
| --- | --- | --- |
| Buckwheat-Brown Butter Blondies | | Print |
Ingredients
Nonstick vegetable oil spray
1 cup (2 sticks) unsalted butter
¾ cup sugar
5 large egg yolks
1 large egg
1-1/3 cups buckwheat flour
⅓ cup almond flour or meal
1 teaspoon coarse sea salt
¾ cups chopped pecans
¾ cups dark chocolate chips
Instructions
Preheat oven to 325°F. Lightly coat a 13x9" glass baking dish with nonstick spray.
Cook butter in a medium saucepan over medium-low heat, stirring often, until it foams, then browns, about 5 to 8 minutes. Transfer to a large bowl; let cool slightly.
Add sugar to melted butter and whisk until smooth. Whisking constantly, add egg yolks one at a time followed by whole egg, beating after each addition to fully incorporate before adding more.
Whisk buckwheat flour, almond flour and salt in a medium bowl.
 Add dry ingredients to butter mixture and mix until smooth.
Add pecans and chocolate chips and mix until just incorporated.
Scrape batter into prepared dish; smooth top.
Bake blondies until lightly browned and center is firm when gently pressed, 20 to 25 minutes. Transfer dish to a wire rack and let cool.
Cut into small bars.
Source:  Variation on recipe from Bon Appétit, August, 2016