Two of my all time favorite guilty pleasure dips are Buffalo Chicken Dip and Artichoke and Spinach Dip. So I was pretty excited when I saw this recipe and knew that I had to give it a try.
Not only does it combine elements of both dips (minus the chicken), it also has bacon. Doesn't bacon make all things better? It adds some crunch and a bit of a smokey flavor. If you're looking for more smokey flavor, try using Rogue Creamery's Smokey Blue Cheese from Oregon (or another smokey blue) in place of the traditional blue.
This would be a really good dip without the hot sauce (just in case you were wondering) but the sauce ties it together nicely. I prefer Frank's Red Hot Buffalo Wings Sauce to traditional hot sauce as it's not too hot but does add some good flavor (I don't do well with things that are too hot and spicy).
This dip is perfect for a March Madness party or any casual gathering. We took it to a friends' house and the host asked to keep the leftovers as he liked it that much. That's always a good sign to me.
Check out my more traditional Buffalo Chicken Dip and Artichoke and Spinach Dip recipes which are also big hits for parties.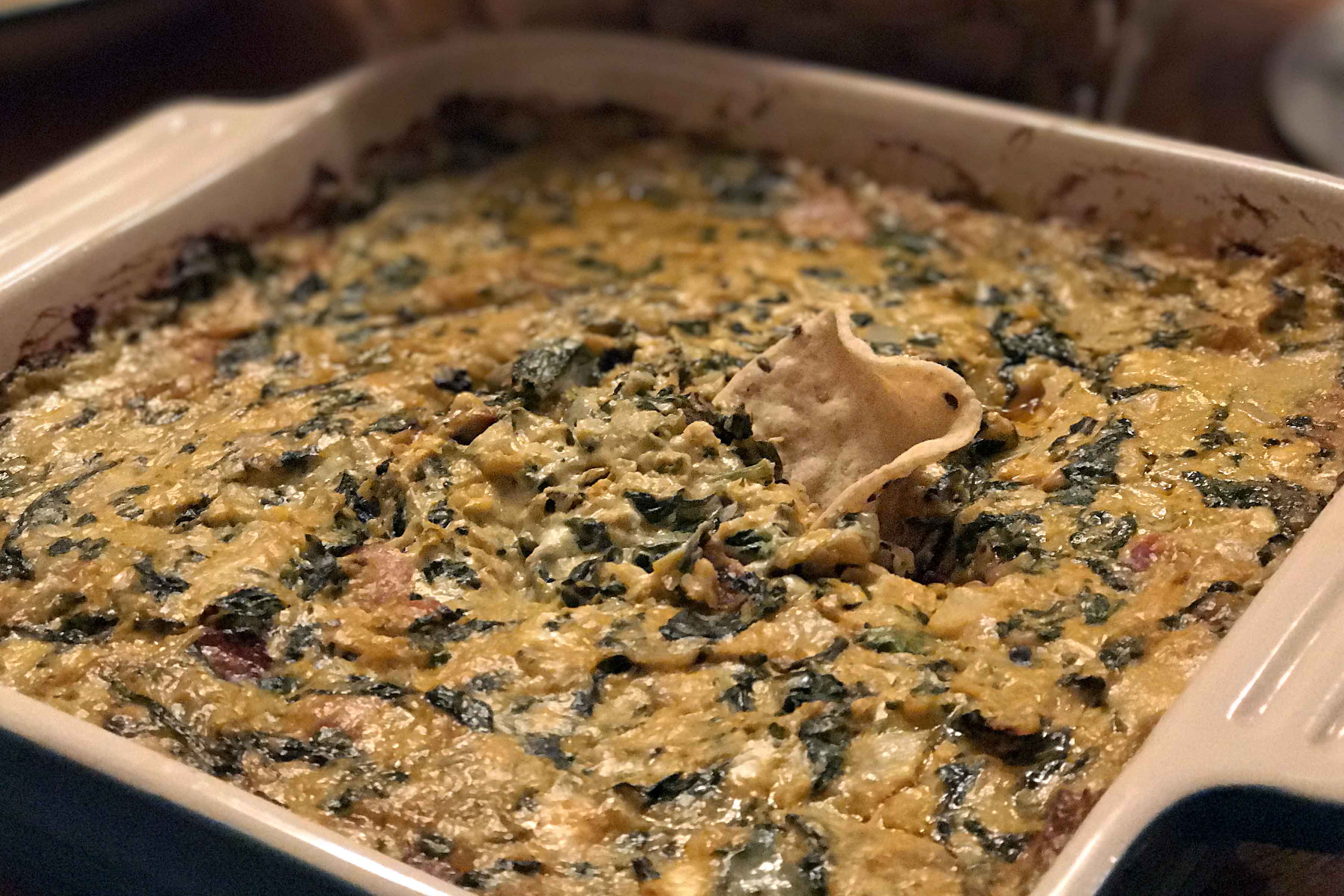 | | | |
| --- | --- | --- |
| Buffalo-Bacon-Spinach-Artichoke Dip | | Print |
Serves:
10 to 12 as an appetizer
Ingredients
5 slices (5 ounces) thick-cut bacon, coarsely chopped
1 medium yellow onion, finely chopped
3 garlic cloves, minced
12 ounces frozen artichoke hearts, thawed and finely chopped
11 ounces (7 cups) baby spinach, roughly chopped
8 ounces cream cheese, softened
4 ounces blue cheese, crumbled
1-1/2 cups shredded Parmigiano-Reggiano
6 tablespoons hot sauce (such as Frank's Red Hot Buffalo Wings Sauce)
Tortilla chips for serving
Instructions
Preheat the oven to 375°. Spray a 10" square baking dish.
In a large skillet, heat bacon over medium-high heat. Cook, stirring as needed, until bacon is golden and fat has rendered, about 8 to 10 minutes. Transfer bacon to a paper towel-lined plate to drain and set aside.
Add onion and garlic to the pan and cook, stirring often, until golden, about 8 to 10 minutes.
Add artichoke hearts and spinach, and cook until the spinach is lightly wilted, about 2 to 3 minutes.
In a large bowl, stir cream cheese, blue cheese, Parmigiano-Reggiano and hot sauce until smooth. Fold in the bacon along with the spinach and artichoke mixture. Season with freshly ground pepper.
Transfer to prepared dish and smooth the top with a rubber spatula.
Bake until golden brown and bubbling, 25 to 30 minutes.
Serve hot along with tortilla chips.
Notes
* If it's not holding together once stirred, add one tablespoon of mayonnaise at a time and stir until it does.
* Recipe can be made two days in advance and refrigerated – add 5 to 10 minutes of cooking time.
Source:  Variation of a recipe from the Tasting Table