Who would have thought that in all of my years of cooking I'd never participated in a cook off of any kind. It took starting a new (non-food related) job for this to happen. Two months in and I received an email about The Institutes' 3rd Annual Chili Cook Off. Of course I had to enter. Prizes were being awarded for People's Choice, Spiciest and Most Innovative (which happens to be one of our core values).
Today I bring you a variation of the People's Choice winner – a recipe from Rachael Ray for Buffalo Chicken Chili that was made by Kate H. I arrived at the blind tasting about halfway through and this chili was all gone so I never got to try it. But I figured if it was that popular (and award-winning) I needed to cook up a batch myself.
I took some liberties with Rachael Ray's original recipe – using beer (beer and Buffalo chicken were clearly meant to be together) in place of chicken stock, adding cannellini beans and doubling the hot sauce. The recipe didn't specify the type of hot sauce so I used Frank's Red Hot Buffalo Wing Sauce (regular heat, not "hot"). It provided just the right amount of heat. If you're using a sauce that's much hotter, I recommend you start with a 1/2 cup and add to taste. Plus, I let the chili simmer for about an hour (rather than 10 minutes) so that the flavors could develop. Then I served it with some crumbled blue cheese and tortilla chips.
Sadly I didn't win a prize for my Chicken Cashew Chili but I did receive a lot of compliments. It's a family favorite but I think it might be a bit too outside the norm of how we think about chili. It was a good learning experience and I'm already thinking about what I can make next year.
This Buffalo Chicken Chili is great for Super Bowl LII – it's easy to make and can be doubled or tripled if you're feeding a crowd.
Bonus Recipe:  In keeping with the Buffalo chicken theme, I'd be remiss if I didn't mention one of my most popular (and least foodie) recipes – Buffalo Chicken Dip. People go crazy, crazy for this four ingredient dip.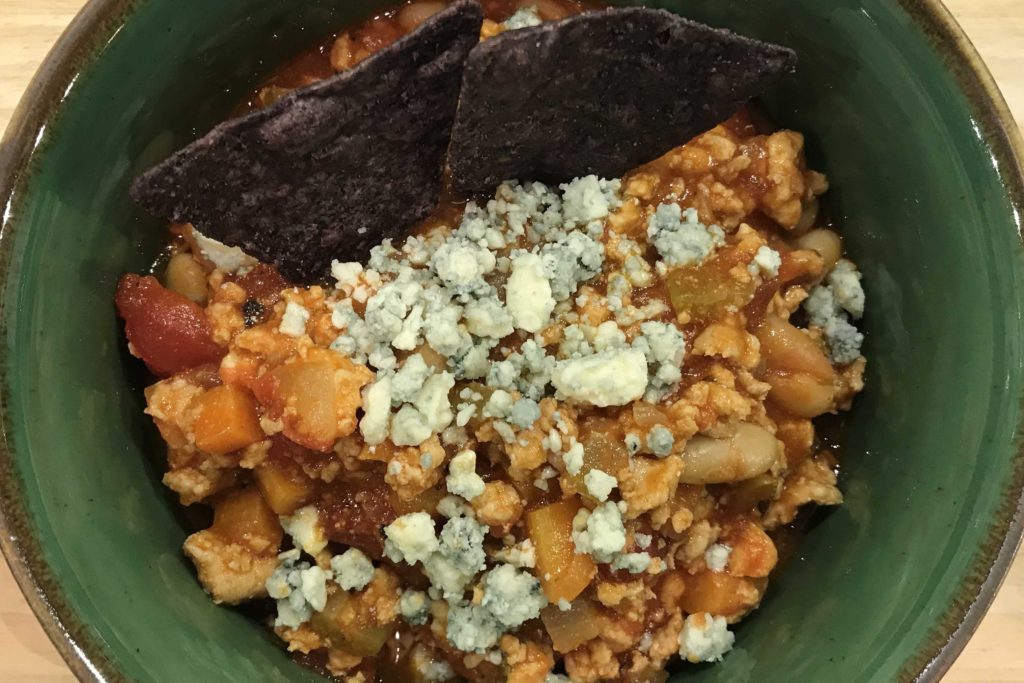 | | | |
| --- | --- | --- |
| Buffalo Chicken Chili | | Print |
Ingredients
2 tablespoons extra virgin olive oil
2 large carrots, peeled and finely chopped
1 large onion, chopped
4 celery stalks, finely chopped
4 garlic cloves, minced
1 tablespoon smoked sweet paprika
1 bay leaf
2 pounds ground chicken
12 ounces beer (lager or pilsner)
½ to 1 cup hot sauce (see Note)
14 ounces crushed tomatoes (typically cans are 28 ounces)
1 15-ounce can fire-roasted tomatoes
1 15-ounce can of cannellini beans
Garnish with: medium-flavored blue cheese (crumbled) and tortilla chips
Instructions
In a large pot or Dutch oven (at least 5 quarts), heat olive oil over medium-high heat. Add carrots, celery, onion and garlic. Cook, stirring frequently for 8 to 10 minutes.
Stir in paprika and bay leaf; cook for another minute.
Add chicken, breaking it up and cook for about 5 minutes until lightly browned.
Stir in beer, ½ cup hot sauce, crushed tomatoes and fire-roasted tomatoes.
Bring to a simmer and turn down to low heat. Cook for 45 minutes, stirring occasionally. Taste halfway through and add more hot sauce if needed.
Add cannellini beans and cook for an additional 10 minutes. Season with salt and pepper.
Remove chili from heat and serve in bowls with crumbled blue cheese and tortilla chips.
Notes
* Hot sauces vary in terms of heat so start with ½ cup. I used 1 cup of
Frank's Red Hot Buffalo Wing Sauce
(regular heat, not "hot"). It's just the right amount of heat for someone who doesn't like too much heat.
* Recipe freezes well – let cool to room temperature before placing in freezer.
Source:  Variation on a recipe from Rachael Ray