I was like a kid in a candy store this past Saturday at the Malvern (PA) Farmers Market. There were a few different stands selling tomatoes but when I saw that the Kimberton CSA (the first CSA in Pennsylvania) had sorted their cherry tomatoes into bins so you could make your own mixture I knew that I had to go to their stand. So simple, but so fun to me. I opted for the quart sized carton and filled it up with cherry tomatoes of all colors and sizes including traditional red plus yellow, orange, purple and green. I added to that some gorgeous full-sized Siberian Tiger tomatoes (what a fun name) – red with gold stripes. Exactly what I needed as the base for this salad.
Ed and I both love burrata – a fresh mozzarella ball filled with cream. Now is the perfect time of year to pair it torn into rough pieces with fresh August tomatoes. Apparently I'm not the only person who thinks so as my local Wegmans was all out of it. I was worried that they had stopped carrying it but was assured that was not the case. Trader Joe's saved the day as they were fully stocked. If you've never tried burrata please do yourself a favor and do so immediately.
This salad uses tomatoes in two ways – in the dressing and as one of the "leads." The dressing is a great balance between the sweetness of the cherry tomatoes and the acidity of the vinegar. Add to that some freshly torn basil and mint (preferably straight from your garden) and you have a salad that screams summer. Don't forget to top it off with some good flaky sea salt (such as Maldon) and your best olive oil to further enhance the flavor of the tomatoes.
I served this with some grilled spicy lamb Merguez sausages from Canter Hill Farm (another farmers market stand) for an easy summer meal. I think we may be having this salad a few more times this month while the tomatoes last.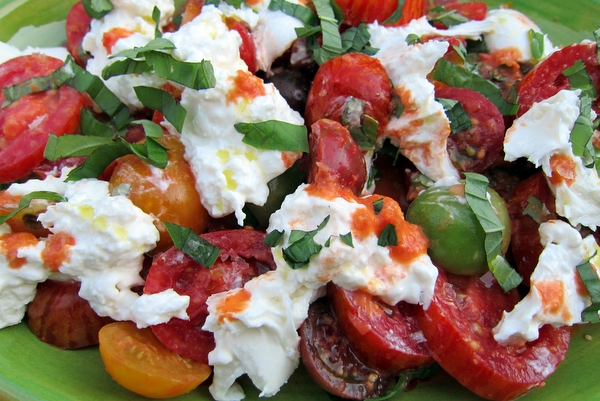 | | | |
| --- | --- | --- |
| Burrata and Tomato Salad | | Print |
Ingredients
½ cup small heirloom cherry tomatoes, such as Sun Gold
1 tablespoon extra-virgin olive oil
1 tablespoon red wine vinegar
1 small shallot, diced
1 teaspoon lemon zest
3 large heirloom tomatoes, such as Siberian Tigers
1 cup small heirloom cherry tomatoes, in a variety of colors
2 burrata balls (8 ounces), torn into pieces
¼ cup of loosely packed basil, torn (divided)
¼ cup loosely packed mint, torn (divided)
extra-virgin olive oil for drizzling
Flaky sea salt, such as Maldon
Instructions
Make the tomato vinaigrette: In a Viamix, blender or food processor, combine cherry tomatoes, olive oil, vinegar, shallots and lemon zest and purée until completely smooth. Season with sea salt and put in the refrigerator until ready to use.
Make the salad: Using a serrated knife, slice the full-sized tomatoes into rounds and the cherry tomatoes into halves.
Place tomatoes in a medium mixing bowl and gently toss with tomato vinaigrette (careful not to over dress) and half of the basil and mint. Season tomatoes with sea salt.
Transfer the tomatoes to a large platter and place the burrata around the tomatoes. Lightly drizzle with olive oil and a few drops of the remaining tomato vinaigrette (on the cheese). Sprinkle remaining basil and mint. Finish the salad with a small sprinkle of sea salt.
Serve immediately.
Notes
* The vinaigrette can be made 3 to 4 hours ahead.
Variation of a recipe from the Tasting Table