Fall has arrived! And it's my favorite time of the year. Cooler temperatures, leaves changing, amazing natural light and comfort food – all good things. Having grown up in California I really didn't get to experience fall until I came east to college in 1986. In Los Angeles it gets "cooler" but it's just not the same. I still remember driving around my first east coast fall and being in awe of all the leaves changing colors. So pretty.
This is an easy appetizer that captures fall perfectly – rich orange color, hardy sage leaves and slightly charred shallots make up the base of this spread. If you can find pre-cut squash this recipe is even easier. It may look like roasted red pepper hummus but tastes nothing like it. If you're serving it to larger group though you may want to put a small sign next to it to avoid any confusion.
This was well-received at a recent Gourmet Dinner Club (GDC) gathering with a "fall" theme. It's amazing how so few ingredients can turn into such a tasty spread. Thanks to Jackie R for having such cool front steps which serve as the background of this picture.
Gluten-Free/Wheat-Free Option:  This spread is entirely gluten-free as long as you serve it with good gluten-free crackers such as Glutino's Bagel Chips.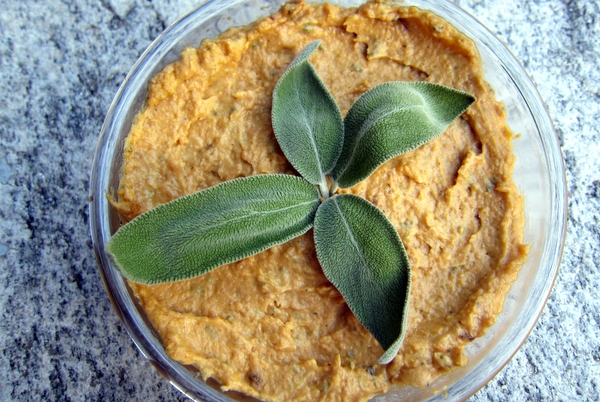 | | | |
| --- | --- | --- |
| Butternut Squash-Sage-Goat Cheese Spread | | Print |
Ingredients
20 ounces peeled butternut squash, cut into 1-inch cubes
4 shallots, peeled and thickly sliced
20 sage leaves (kept whole, stems removed)
1 to 2 tablespoons olive oil
Sea salt and pepper
4 ounces goat cheese
For serving: sliced bread or crackers
Instructions
Preheat oven to 450°F. Cover a large cookie sheet with aluminum foil or spray with oil.
Place cut butternut squash, sliced shallots and whole sage leaves in a large bowl. Toss with olive oil (you may only need a tablespoon) and sea salt and pepper.
Spread butternut squash mixture onto prepared cookie sheet.
Roast for 25 to 30 minutes or until very tender. Let cool.
Put cooled butternut squash mixture into the bowl of a food processor and add goat cheese. Process until smooth.
Transfer to a bowl. Refrigerate until ready to serve.
Serve with sliced bread or crackers.
Notes
* Use pre-cut butternut squash if you can find it – it makes this recipe even easier.
* If you have time I recommend making it a day in advance so the flavors can meld.