Before I learned to cook and bake from scratch, I was a "box baker."  I made a mean box of brownies, chocolate cake with chocolate frosting and a layer of raspberry preserves (my mom's favorite) and angel food cake with a rum chocolate-whipped cream frosting (my grandmother's recipe and my favorite childhood birthday cake).
Somewhere down the road I started making brownies from scratch and after trying many recipes settled on the base you see below as my standby. It's so good, it stayed as by standby when I gave up eating wheat as it adapted well with gluten-free flour.
When my friend, Lisa D, asked if I had a recipe for Caramel-Sea Salt Brownies for the cookbook project that we're working on together, I responded "not now, but I will." So I started with the gluten-free version of these brownies and adapted a caramel  that I've used in a few other desserts. I covered the brownies in the caramel rather than just a simple drizzle as I wanted to make sure the caramel didn't get lost. The key to both the chocolate and caramel parts of this recipe is using good salt – coarse sea salt for the brownie base (it's makes the chocolate even better) and flaky sea salt sprinkled generously atop the caramel.
While I used gluten-free flour in this recipe, it is just as good with regular all-purpose flour (same quantity).
These little bites would make a great addition to a New Year's Eve dessert table.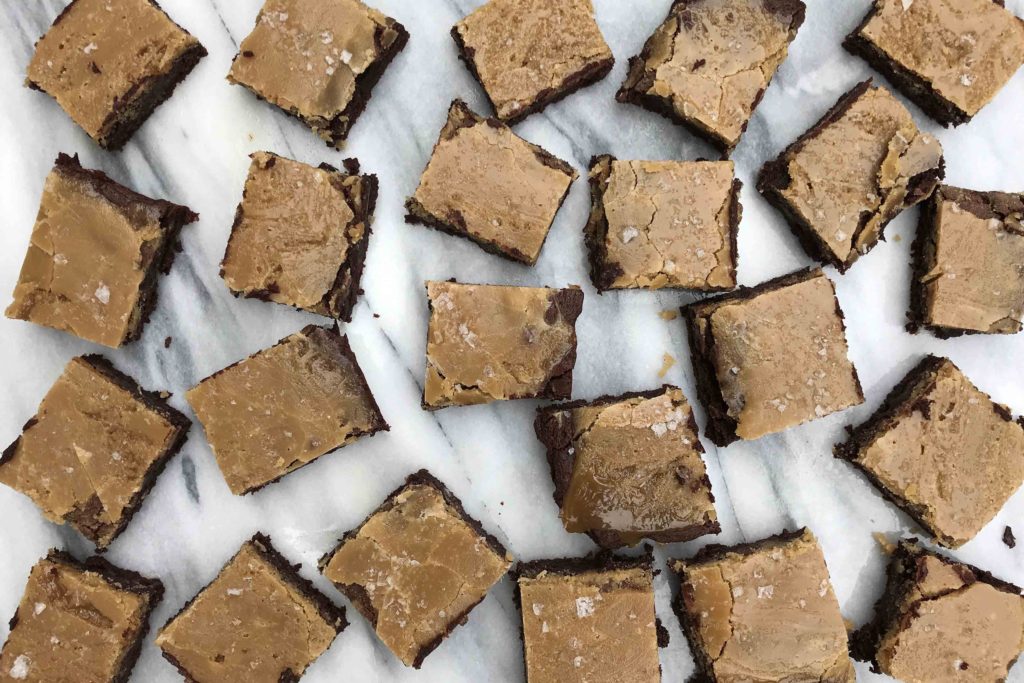 | | | |
| --- | --- | --- |
| Caramel-Sea Salt Brownies (Gluten-Free) | | Print |
Ingredients
1 cup (2 sticks) unsalted butter, cut into 1" pieces
2-1/2 cups sugar
1-1/2 cups unsweetened cocoa powder
2 teaspoon coarse sea salt
2 teaspoon vanilla extract
4 large eggs
⅔ cup all-purpose flour or gluten-free flour
⅓ cup heavy cream
¼ cup (1/2 stick) unsalted butter, at room temperature
¾ cup light brown sugar
1-1/2 teaspoons water
coarse or flaky sea salt
Instructions
Preheat oven to 325°F. Line a 9"x13" glass baking dish with foil, pressing firmly into pan and leaving a 2" overhang. Coat foil with nonstick spray; set baking dish aside.
Melt butter in a small saucepan over medium heat or in a microwave. Let cool slightly.
Whisk sugar, cocoa, and salt in a medium bowl to combine.
Pour butter in a steady stream into dry ingredients, whisking constantly to blend.
Whisk in vanilla.
Add eggs one at a time, beating vigorously to blend after each addition.
Add flour and stir until just combined (do not overmix).
Scrape batter into prepared pan; smooth top.
Bake until top begins to crack and a toothpick inserted into the center comes out with a few moist crumbs attached, 30-40 minutes.
While brownies are baking: In a medium heavy-bottomed saucepan, combine heavy cream, butter, brown sugar, and water. Stir over medium heat until the mixture is smooth. Bring to a boil and cook, without stirring, until a candy thermometer registers 240°F, about 5 to 7 minutes.
Carefully pour caramel over hot brownies (just out of the oven).
Sprinkle with coarse or flaky sea salt.
Transfer pan to a wire rack; let cool completely in pan. (They will not cut well if still warm.)
Using foil overhang, lift brownies out of pan; transfer to a cutting board and cut into 32 squares.