I'm using a bit of artistic license as it relates to the use of the word "hummus." Hummus is derived from the Arabic word for "chickpeas" but you will not find any chickpeas in this dip. You will, however, find tahini which is a key ingredient in traditional hummus.
This spread brings together the sweetness of the roasted carrots along with the nuttiness associated with tahini (even though it's made from sesame seeds and not nuts). It's a great way to show off the root vegetables that are still growing at this time of year and can be found at your local farmers market. Not only is the flavor good, but it's got a great color, too.
It goes well with vegetables such as peppers, celery and even carrots (we did realize that was a double dose of carrots), tortilla chips, crackers or pita.
It makes a nice addition to a Thanksgiving or fall meal. It's also gluten-free. Thank you to Cathy R for the inspiration.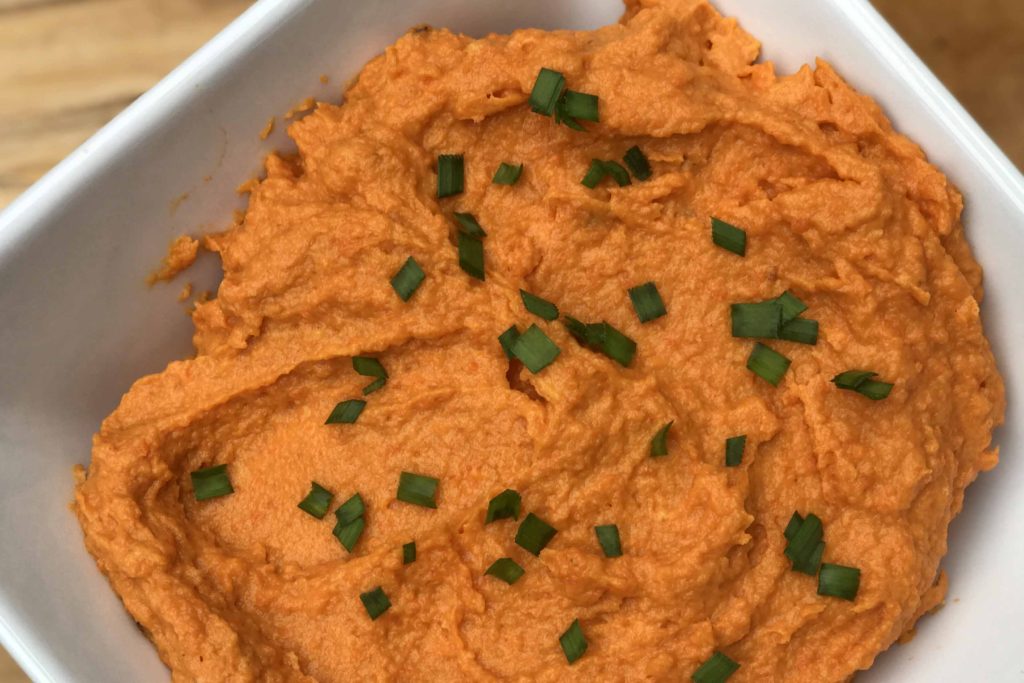 Ingredients
2 pounds carrots, peeled and cut into 1-inch pieces
2 tablespoons olive oil - divided
2 cloves of garlic
4 tablespoons tahini
2 tablespoons freshly squeezed lemon juice (~ 1 lemon)
2 teaspoons light brown sugar, firmly packed
1 teaspoon cumin
¼ teaspoon of red pepper flakes (or to taste)
Sea salt
For garnish: chives
For serving: vegetables, tortilla chips, crackers or pita
Instructions
Preheat oven to 375°F.
Place carrots in a bowl and toss with 1 tablespoon of olive oil and sea salt.
Wrap loosely in a parchment paper (staple it closed if necessary) and place on a cookie sheet. You want the carrots in one layer – make two packages if necessary. Bake for 30 minutes, open the parchment and cook for another 10 minutes. The carrots should be tender with some brown roasted spots.
In a food processor, blender or Vitamix, add carrots, 1 tablespoon olive oil, garlic, tahini, lemon juice, brown sugar, cumin, red pepper flakes and salt. Process until smooth (about 2 minutes). Taste and add more lemon juice, olive oil or salt. You want it to be very smooth.
Transfer to a container and refrigerated until ready to serve. Bring to room temperature and garnish with snipped chives. Serve with vegetables, tortilla chips, crackers or pita.
Hummus keeps two weeks, refrigerated.
Source:  Variation on a recipe from A Side of Sweet