I've now been wheat-free for 1,099 days!  I gave up wheat by choice back on January 1, 2014 with the hopes that it would help with the osteoarthritis in my hands. For the most part my hands are better than they were three years ago plus overall my body just feels better.
It's amazing to me how many more gluten-free options there are both at the grocery store and in restaurants. That has certainly made it easier to remain wheat-free. I've found good alternatives for homemade sweets (cakes, brownies, cookies and quick breads), pastas and crackers. But bread is still the hardest to recreate in a wheat-free world.
Last week I was having lunch with my friend, Deb B, who is gluten-free. We were reminiscing about real bread and that got me thinking that maybe beer bread would be a good compromise.
This is a slight variation from a recipe I found on the Cup4Cup website. I've had such good luck with Cup4Cup flour that I figured it was a good place to start. The bread turned out well – moist on the inside and a bit of "crust" on the outside.  It also made a nice tall loaf which is satisfying as so many loaves of gluten-free bread are small. While I eat barley and rye so I could use most beers for this recipe, I wanted to make it truly gluten-free so Deb could enjoy it. I used a bottle of Omission's Lager which is specially crafted to remove the gluten. Dare I say that this bread satisfied some of that "bread made from wheat" craving.
While this recipe can be made using traditional all-purpose flour and beer, you can also check out two other recipes for beer bread on Riegl Palate that are quite tasty:  Guinness Beer Bread and Whole Wheat-Rosemary Beer Bread.
Don't know much about gluten-free beer? Check out Paste's The Best Gluten-Free Beers (Blind Tasting) and Bon Appétit's 17 Gluten-Free Beers That Actually Taste Good [Updated for 2016!].
Note that I'm only wheat-free and not gluten-free. I do eat barley and rye – the other two gluten-producing grains. While oats do not contain gluten they can be easily cross-contaminated with wheat, barley or rye (either when growing or in production facilities) so I always look for oats that are marked gluten-free.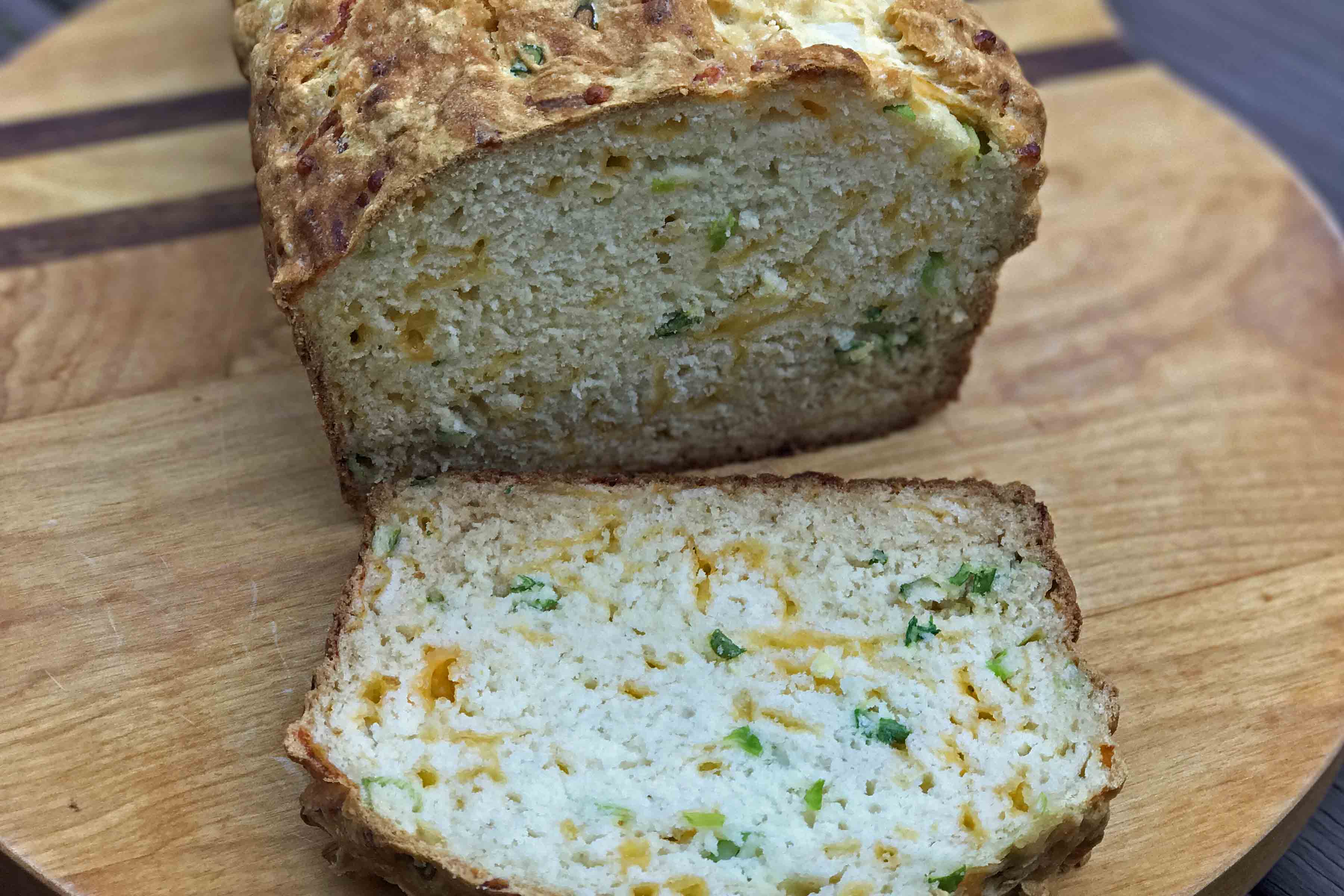 | | | |
| --- | --- | --- |
| Cheddar-Scallion Beer Bread (Gluten-Free) | | Print |
Ingredients
3 cups flour (gluten-free, such as Cup4Cup Multipurpose, or regular all-purpose flour)
1 tablespoon baking powder
1 teaspoon baking soda
2 teaspoons kosher salt
1-1/4 cup (about 5 ounces) grated sharp cheddar cheese
⅓ cup scallions (green onions), thinly sliced
12 ounces lager-style beer (gluten-free or traditional)
1 large egg
1 large egg white
3 tablespoons honey
2 tablespoons unsalted butter, melted
Instructions
Preheat oven to 350°F.
Line a loaf pan with parchment paper so that it is overhanging from its opposing long edges. Spray well with cooking spray.
Mix together the flour, baking powder, baking soda and salt in a bowl. Add cheese and green onion and stir to mix.
In a separate bowl whisk together beer with eggs, honey and melted butter.
Slowly stir in beer mixture to dry ingredients. Mix to fully incorporate. The batter will be thick and lumpy.
Spread the batter into the prepared pan and smooth the top.
Bake for 45 to 55 minutes and until the loaf is golden brown and springs back when pressed in the center.
Place pan on a rack. After 10 minutes remove from pan and parchment paper. Cool to room temperature before serving.
Source:  Adapted from Cup4Cup