Once a month I get together with five foodie friends who make our "Gourmet Dinner Club" (GDC).  Whoever hosts selects the theme and we all bring various components of the meal.  This month's theme was "awareness of what you are eating" and we were each assigned a different ingredient or in my case the "challenge" of making an appetizer that is high in vitamin D.
In addition to bringing our dish, we were also asked to educate the group on the benefits of cooking with this ingredient.  Vitamin D aids in the proper absorption of calcium, bone development, control of cell growth, neuromuscular functioning, proper immune functioning, and alleviation of inflammation.
I did some research and ruled out an appetizer made of cod liver oil, fortified cereals or caviar and settled on mushrooms – the only vegetable to make the list of top ten foods high in vitamin D.  Conveniently I'm a big mushroom fan, so I happily accepted this challenge.
I have tried some different mushroom appetizers in the past, but have never been able to find one that I really liked until this one.  This dish is just the right balance of mushrooms and cheese and a great way to get your daily allowance of vitamin D.
Look for mushrooms that say they are "high in Vitamin D" – it has to do with how they are grown.  This dish is just as tasty if you don't find mushrooms high in Vitamin D!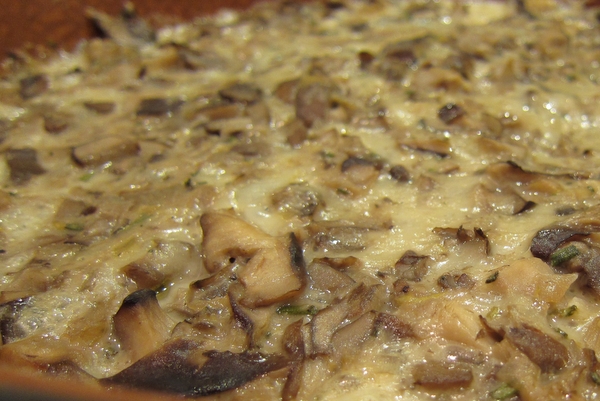 | | | |
| --- | --- | --- |
| Cheesy Mushroom Spread | | Print |
Ingredients
1 tablespoons olive oil
3 ounces shallots, chopped
16 ounces baby Portobello mushrooms, chopped
10 ounces shiitake mushrooms, chopped
¼ cup white wine
1 garlic clove, minced
¼ cup heavy cream
2 teaspoons fresh rosemary, minced
1 teaspoon lemon peel, grated
8 ounces Fontina cheese, shredded
2 ounces Pecorino-Romano cheese, shredded
1 baguette, sliced
Instructions
Heat oil in large skillet over medium-high heat.
Add shallots; sauté 1 minute. Add all mushrooms; sauté for about 3 minutes and add wine. Continue cooking another 4-6 minutes until mushrooms begin to brown and liquid is absorbed. Stir in garlic; rosemary, and lemon peel, sauté 1 minute.
Remove from heat. Stir in cream. Season with salt and pepper. Cool. Mix in both cheeses and transfer to a baking dish.
Can be made 2 days ahead. Cover and refrigerate.
Preheat oven to 375°F. Bake for about 15-20 minutes until cheese is melted and mushrooms are heated through.
Serve with baguette slices.
Notes
- Recipe can be halved.
Source:  Variation of a recipe from Bon Appétit, June 2004