Slow cookers and I have not always seen eye to eye. While I like the concept that you can place a bunch of ingredients in the cooker, turn it on and come back hours later to a hot and tasty meal it rarely worked that way for me (a few family members can attest to that). I have been able to conquer the alternative path where you do some advanced work (such as sautéing onions or browning meat) before placing everything in the cooker and have had pretty good results.
Given my history I wasn't sure about this recipe but thought it was worth a try. I'm happy to say that I have finally found a simple slow cooker recipe that worked and resulted in an easy and flavorful meal.
There's no need to pre-cook anything but you do need to be available about half way through to add a few more ingredients. At the end the chicken is so moist that it shreds very easily.
Serve this as a base for a burrito bowl or add it as filling to your favorite burritos or tacos, or topping for nachos.
Hosting a Super Bowl party? This is the perfect "bowl" for the biggest football game of the season. This recipe easily doubles (or even triples) as long as you have a large enough slow cooker.
Kid-Friendly Update:  Since I've posted this recipe many family members and their friends have made it. The best part about this is that many young children have really liked it. Our 8 year old nephew, Owen S, proclaimed it "the best meal ever!" I'll take that endorsement.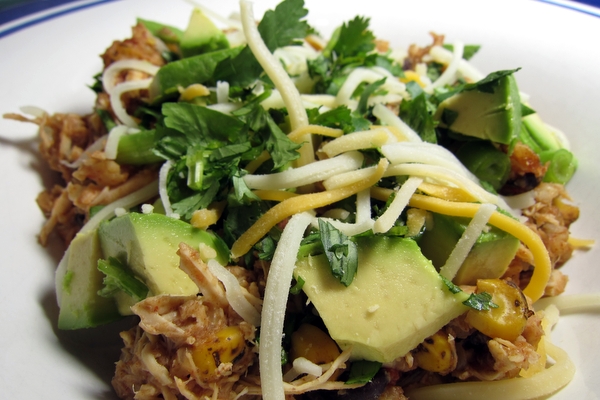 | | | |
| --- | --- | --- |
| Chicken Burrito Bowl (Slow Cooker) | | Print |
Ingredients
1-1/2 pounds boneless skinless chicken breasts, chicken thighs, or a mix
1 14.5-ounce can diced tomatoes
3 garlic cloves, minced
1-1/2 cup of chicken stock, plus more if needed
1 tablespoon chili powder
2 teaspoons salt
1 teaspoon cumin
1 cup brown rice (uncooked)
1 15-ounce can black beans, drained and rinsed
1 cup frozen corn (roasted, if possible)
Shredded cheese, chopped cilantro, diced avocado, salsa, hot sauce and diced green onions
Instructions
Combine the chicken breasts, diced tomatoes, garlic cloves, chicken stock, chili powder, salt and cumin in the bowl of a 5-1/2 quart slow cooker. Make sure the chicken is covered – add additional stock if needed. Cover with the lid and cook on low for 3-1/2 to 4 hours.
Remove the lid and add the rice, black beans and frozen corn.
Replace the lid and continue cooking on low for another 3 to 3-1/2 hours. Check the rice periodically in the last hour of cooking, stirring once or twice to make sure the rice cooks evenly and adding more chicken broth if the mixture seems dry.
Cooking is done when the rice is tender – if the rice is done while there is still liquid left in the slow cooker, remove the lid and cook on high to let the liquid evaporate. Total cooking time from start to finish is 6-1/2 to 7-1/2 hours.
Use two forks to shred the chicken into bite-sized pieces. You can do this either in the slow cooker itself and then mix it into the rice, or you can transfer the chicken to a cutting board if you prefer to keep it separate.
Taste the burrito mix and stir in more salt or other seasonings to taste.
Serve burrito bowls with a selection of toppings.
Notes
* I like the frozen Roasted Corn from Trader Joe's.
* The burrito mixture will keep for 1 week refrigerated or for 3 months in the freezer.
* This filling is good for regular burritos or tacos or makes a great topping for nachos.
* You could go as small as a 4-quart slow cooker.
* This recipe easily doubles – just be sure to have a large enough slow-cooker.
Source:  Adapted from The Kitchn