It's cold outside so why not make a big pot of chili inside? Looking to expand your chili repertoire? Add some chocolate and cashews to it for a new twist. Think of it as mole sauce meets chili. The sauce is more flavorful than spicy as ancho chilies are on the mild side (anchos are dried poblanos) which makes it appealing to a large group.
I've been making this recipe so long that it started out using whole chicken breasts. Along the way I've made some changes but the best one was my stepmother, Peggy T, suggesting that we use boneless chicken breasts which makes chicken shredding step even easier. The latest change is puréeing the sauce in a Vitamix which makes it even smoother – a regular blender works just fine, too. Oh, I also increased the chocolate a bit as I couldn't resist.
Holiday Tip:  Make up a double batch now for freezing so you have an extra meal on hand during the holidays. Rosemary Corn Muffins go well with this dish and can also be made ahead of time and frozen.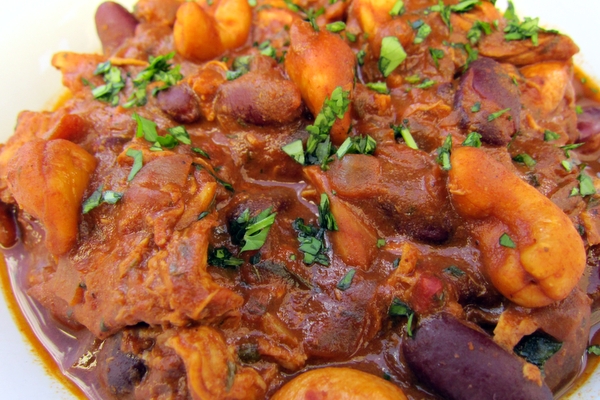 | | | |
| --- | --- | --- |
| Chicken Cashew Chili | | Print |
Ingredients
2 ancho chilies, stemmed, seeded and crumbled
¾ cup unsalted cashews, raw or roasted (divided)
1 cup chicken broth
4 boneless chicken breasts (about 1-1/2 pounds)
2 tablespoons olive oil
1 large onion, chopped
3 garlic cloves, chopped
1 tablespoon ground cumin
1 teaspoon chili powder
1 teaspoon salt
3 tablespoons fresh cilantro, chopped (divided)
1 14.5 ounce can diced tomatoes, with liquid
1 ounce good quality bittersweet chocolate (not unsweetened) or semisweet chocolate
1 15 ounce can of kidney beans, rinsed and drained
Instructions
Make chili purée: Boil chicken broth (on stove or in microwave). Place dried chilies in boiled chicken broth. Let chilies soak for 10 minutes. Transfer chilies and broth to a blender or Vitamix and add ¼ cup cashews. Purée until smooth; set aside.
In a large heavy pot (4 to 5 quarts) heat oil over medium heat until hot and cook onion and garlic, stirring, until softened, about 7 minutes.
Add cumin, chili powder, and salt and cook, stirring, 1 minute.
Add chicken and stir to coat with onion mixture.
Stir in chili purée, 2 tablespoons cilantro, and tomatoes with juice and simmer over medium-low heat, covered, stirring occasionally to avoid sticking, 45 minutes or until chicken is cooked through.
Remove pan from heat and transfer chicken to a bowl. Using 2 forks or your hands shred meat.
Return chicken to pan and stir in ½ cup cashews, chocolate, and beans.
Cook chili over moderate heat, stirring, until heated through and chocolate is melted.
Sprinkle remaining tablespoon of cilantro on chili before serving.
Notes
* Chili may be made 2 days ahead and cooled completely, uncovered, before being refrigerated.
* Chili freezes well.
* Recipe doubles well.