"I don't know what it is but I want to try it." So said Tony Stark AKA Iron Man in The Avengers (2012). I'd be lying if I said I was inspired by the post-credit scene in this movie to make chicken shawarma. The inspiration actually came from a New York Times recipe.
Ed and I had made this shawarma many times for ourselves. Subconsciously perhaps we didn't want to share it? But this past Christmas my brother, Geoff T, asked if we'd make Boxing Day (the day after Christmas) dinner. Of course I accepted and set about thinking what I could make or kind of make in advance given that it would be a few days between leaving our house and actually making this dinner due to our holiday travel schedule. I decided that we were ready to share…
I made the marinade a few days before – it could actually be done up to two weeks in advance. On Boxing Day Geoff and I set out for an early morning sibling bonding trip to Whole Foods. We had the run of the store picking up the requisite boneless chicken thighs and then went a bit nuts when it came to accompaniments – a variety of olives, more hummus choices than you could imagine, baba ghanoush, crumbled feta cheese and naan. Yes, naan isn't Middle Eastern but we like it more than pita (or the wheat-eating members of my family do). Plus tomatoes and cucumber for a simple salad – it adds some crunch and color.
All I needed to do was marinate the chicken and whip up salad. It was a particularly warm December so Ed grilled the chicken but the beauty of this recipe is that it is just as tasty in the oven. We set out the accompaniments along with the chicken and salad and let the family help themselves. Happiness all around! You would have thought nobody had eaten in weeks even though we'd had a perfectly fitting meal to celebrate Christmas the night before.
I recently revisited this recipe with my Gourmet Dinner Club (GDC). Since I had more time (and my own kitchen) I made the hummus (see Best Ever Hummus) and baba ghanoush from scratch. I supplemented it with store-bought feta, olives and naan. One of my guests that night brought the perfect tomato-cucumber salad to accompany it.
Not only is this shawarma recipe super tasty but it makes a great meal that you can easily adapt depending on the level of effort you want to put into it. Plus, other than the naan it's gluten-free/wheat-free. It's also fun to say!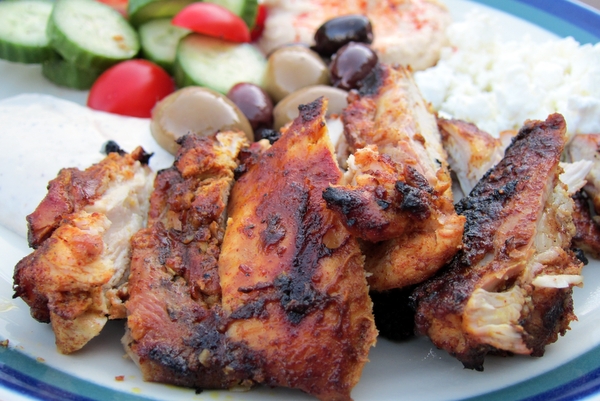 Ingredients
Juice of 2 lemons (~ 2 ounces)
¼ cup olive oil
6 cloves garlic, minced
1 teaspoon salt
2 teaspoons freshly ground black pepper
2 teaspoons ground cumin
2 teaspoons paprika
½ teaspoon turmeric
A pinch ground cinnamon
Red pepper flakes, to taste
2 pounds boneless, skinless chicken thighs
2 tablespoons chopped fresh parsley, for garnish
Serving suggestions: hummus, baba ghanoush, olives, crumbled feta, tomato and cucumber salad, and naan or pita
Instructions
Marinade: Combine lemon juice, olive oil, garlic, salt, pepper, cumin, paprika, turmeric, cinnamon and red pepper flakes in a large bowl and whisk to combine. Add chicken and toss well to coat. Cover and store in refrigerator overnight or at least a few hours.
Oven Method: When ready to cook, heat oven to 425°F. Line a baking sheet (or 2 if needed) with aluminum foil. Remove chicken from marinade and place on sheet ensuring each piece is as flat as possible to ensure even cooking. Put chicken in oven and cook until it is browned, crisp at the edges and cooked through, about 30 to 40 minutes.
Grill Method: Preheat grill to medium. Grill chicken for about 10-15 minutes, turning once. Cook until browned, crisp at the edges and cooked through.
Once cooked allow chicken to rest for about 2 minutes and slice into pieces.
Scatter the parsley over the top and serve suggested accompaniments.
Notes
* Recipe can easily be doubled or tripled.
* My favorite feta is actually French – Valbreso. Wegmans sells it in a block and crumbled.
Adapted from:  Sam Sifton's "Chicken Shawarma Deluxe, No Rotisserie Required" in The New York Times (January 28, 2015)