Our friend, Hope D, introduced us to Chicken Tortilla Soup back in 1998 – the year we first met.  I still remember sitting in her apartment in the Philadelphia suburbs and being transported to a warmer climate when first tasting her soup. I have a soft spot for anything Mexican inspired so this soup was perfect for me.
While I've enjoyed it in restaurants over the years it wasn't until recently that I made it at home (sadly I couldn't find Hope's original recipe which I'm sure she shared with me). This is easy to make and even more so if you use chicken from a rotisserie chicken. Making these quick and easy tortilla strips are great for this recipe and a good tip that you can likely use in other recipes.
It's a great meal on a cold winter's night – I hope it takes you to a warmer place, too.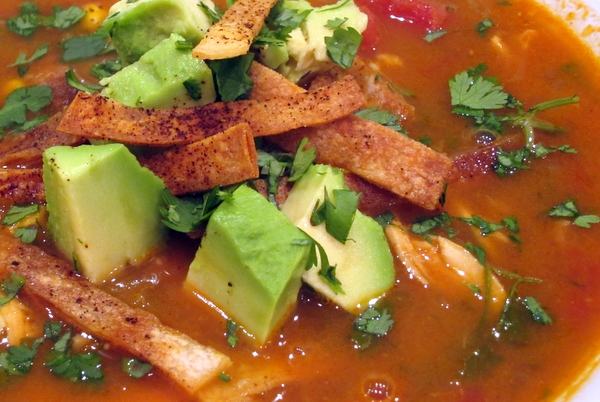 | | | |
| --- | --- | --- |
| Chicken Tortilla Soup | | Print |
Ingredients
4 corn tortillas, divided
¼ teaspoon chili powder or chipotle chili powder
2 tablespoons olive oil
1 medium onion, chopped
3 cloves garlic, sliced
2 chipotle chilies in adobo sauce, minced plus one tablespoon sauce
1 tablespoon chili powder
1 teaspoon salt
6 cups chicken broth
1 14.5 ounce can diced tomatoes (not drained)
1 cup corn kernels, fresh or frozen (if frozen, no need to thaw)
2 cups shredded cooked chicken
½ cup cilantro leaves plus garnish
¼ cup freshly squeezed lime juice (~3 to 4 limes)
Lime wedges, for serving
Instructions
For Tortilla Strips: Preheat oven to 350°F. Using kitchen scissors, cut 2 tortillas into matchstick-size strips. Arrange strips on baking sheet; spray with nonstick spray. Sprinkle with ¼ teaspoon chili powder; toss. Bake until crisp, about 15 minutes.
For Soup: Heat oil in a Dutch oven or soup pot (at least 4 quarts) over medium heat. Add the onion, garlic, chipotle chilies, adobo sauce, 1 tablespoon chili powder, and salt and cook until the onion softens, about 5 minutes. Add 2 tortillas (torn in pieces – they will break down and act as a thickener), tomatoes and chicken broth, bring to a boil, reduce the heat slightly, and simmer, uncovered, for 10 minutes. Add the corn and cook for 5 minutes more.
Optional: For thicker soup, take two cups of soup and put in a blender or Vitmax to purée. Add back to soup to thicken.
Remove pot from heat and stir in chicken, cilantro and lime juice.
Ladle into bowls and top with tortilla strips, avocado, chopped cilantro and lime wedges.
Notes
* You can use chicken from a rotisserie chicken.
* Chipotle chilies in adobo sauce are found in small cans in the Mexican section of grocery stores. I like to freeze the extras in small sandwich bags – 2 or 3 to a bag – so I always have them on hand. They will stain plastic containers so sandwich bags are a better alternative.
* Recipe freezes well leaving you to only make the tortilla strips for garnish.
* Don't have time to make the tortilla strips? Break up a few tortilla chips and sprinkle atop the soup instead.