This is the ideal one pot meal for me as it combines many flavors that I love. Artichokes, olives, lemon, mint and a bit of spice from red pepper flakes make everyday chicken thighs exciting enough for a special dinner. The whole dish comes together in about an hour so there may not be a need to wait for a special occasion.
The original recipe called for using whole artichokes. I made it that way the first time but both Ed and I agreed that it was an awful lot of work. Fortunately The New York Times' Melissa Clark gave her blessing to use frozen artichokes in place of fresh ones. Canned artichokes are fine for some dishes (such as dips) but in this case, go for the frozen ones (I think they're better). It's important that you thaw the artichokes ahead of time – overnight if possible in the refrigerator or at room temperature if you only have a few hours. Be sure to pat them dry as much as possible before adding to the pan.
While I've billed this as one pot meal, a salad would go nicely as an accompaniment along with some lovely crusty bread to soak up the sauce. If you want to make it more of a hearty meal, try serving the chicken atop a bed of pasta (gnocchi would be particularly good) or some smashed new potatoes.
Don't skip the sprinkling of fresh mint as it ties the flavors together quite well.
Gluten-Free/Wheat-Free Option: If you haven't tried DeLallo's Gluten-Free Gnocchi, you're in for a real treat. DeLallo has done a great job making it without any wheat.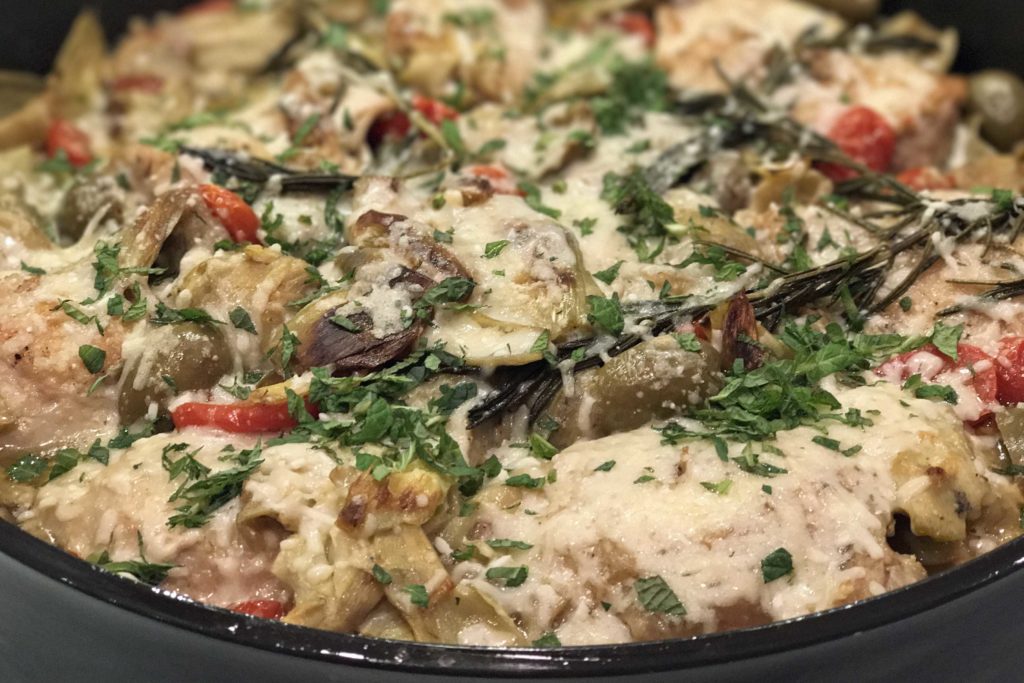 | | | |
| --- | --- | --- |
| Chicken with Artichokes and Olives | | Print |
Ingredients
4 chicken thighs (with skin and bones)
1 tablespoon extra-virgin olive oil, more as needed
12 ounces frozen artichokes, thawed
4 garlic cloves, minced
1-1/2 cups cherry tomatoes, halved
Pinch red pepper flakes
¾ cup dry white wine
⅓ cup pitted olives, halved (use black, green or a mix)
1 lemon, zested and juiced
2 large rosemary branches
1 tablespoon unsalted butter
1 tablespoon grated Parmigiano-Reggiano, more as needed
2 tablespoons chopped mint leaves
Instructions
Heat oven to 375°F. Pat chicken pieces dry with paper towel and season with salt and pepper.
In a large (12-inch) ovenproof skillet with a lid, heat oil over medium-high heat. Add chicken pieces and sear in batches until well browned, 5 to 7 minutes per side. Transfer chicken to a plate.
Add artichokes and garlic to pan, adding more oil if needed. Cook, turning occasionally, until golden brown, about 5 to 7 minutes.
Stir in tomatoes and red pepper flakes; cook 1 minute more.
Pour in wine and stir in olives, lemon zest and rosemary branches. Return chicken to pan. Bring liquid to a simmer.
Cover pan and transfer to oven. Cook until chicken is tender, 30 to 35 minutes.
Transfer chicken to a plate and place skillet over medium-high heat. Simmer until pan juices thicken (becoming more like a sauce) about 3 to 5 minutes. Whisk in butter.
Return chicken to pan and sprinkle with cheese.
Turn on broiler and adjust oven rack for broiling. Place pan in oven until cheese is melted and golden, 2 to 3 minutes. (Watch carefully to ensure that it does not burn.)
Pour lemon juice over pan. Sprinkle with mint and serve.
Notes
* Be sure to thaw the frozen artichokes ahead of time – I recommend overnight in the refrigerator. Place frozen artichokes on paper towels on a plate and cover with plastic wrap. If you only have a few hours, leave them at room temperature.
* Recipe can be doubled – just be sure you have a pot large enough to fit the chicken in a single layer and that you can cover the dish with a lid (aluminum foil will work, too).
Adapted from:  Melissa Clark's "Chicken and Artichokes Partner Well in a Garlicky Braise" in The New York Times (April 22, 2016)