I have recently reached the conclusion that gardening holds no interest to me. I would MUCH rather be in the kitchen getting my hands dirty there than outdoors. However, there are are exceptions to everything – and my exception is that I do enjoy growing my own herbs during the warmer months. It is so nice to improvise with herbs growing on my deck, rather than always having to plan what I need to buy when I go grocery shopping.
The two starring ingredients in this Argentinian sauce are cilantro and flat leaf parsley. While this sauce is similar to a pesto, the main difference is the addition of vinegar. This gives it a bit more a bite which works well with grilled meat. Think of it a somewhere between a pesto and a vinaigrette.
I like this sauce best with a grilled steak.  If I am making a flank steak, I make the sauce a day ahead so that I can mix a few tablespoons of it with some red wine to marinate the steak and then serve more sauce with the meat when it comes to the table. You could also pair it with chicken or shrimp.
And, just because I am not a fan of gardening, doesn't mean that I don't have a deep appreciation for those who grow beautiful food and flowers (among other things).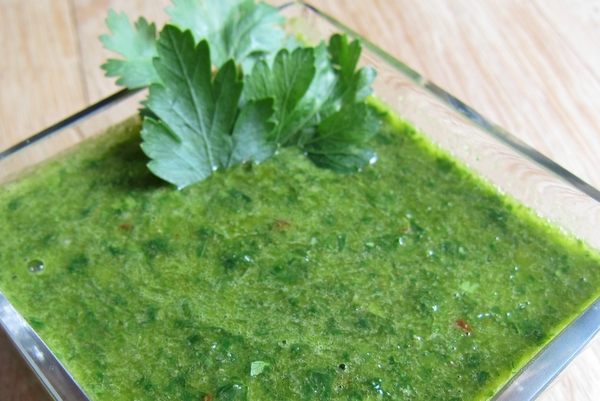 Serves:
Makes about 1 cup.
Ingredients
1 cup packed cilantro
1 cup packed fresh flat-leaf Italian parsley
½ cup olive oil
⅓ cup red wine vinegar
2 garlic cloves, peeled
¾ teaspoon dried crushed red pepper
1 teaspoon ground cumin
½ teaspoon salt
Instructions
Purée all ingredients in a food processor. Transfer to a bowl.
Can be made 24 hours in advance. Refrigerate and bring to room temperature before serving.
Notes
To marinate a flank steak: Mix 2 tablespoons of sauce with ⅓ cup of red wine and marinate for 24 hours. Serve with remaining sauce.