Happy 5th birthday to Riegl Palate! In keeping with tradition I'm sharing a chocolate cake recipe with all of you in celebration (the closest I can get to sharing an actual cake).
The idea for Riegl Palate began back in 2010 but it took almost two years before it became a reality. I knew that writing a blog was a commitment and I had to be ready for it. My dear friend, Embry H, took a big step and started designing my site – and that was just the push that I needed to start creating the content. At that time I told myself that I would post a new recipe at least once a week  – five years later I've published 299 posts and never missed that weekly commitment.
Why do I do it? I started out wanting to share my love of cooking and sharing recipes with more than just the people for whom I was able to cook – my friends and family. But it has become so much more than that – meeting new foodie friends, helping people near and far learn about a new food or kitchen technique, connecting with my local community and capturing great pictures of food. It's also a great conversation starter (Ed may say that was already in my genes) which has resulted in having a recent college graduate who did TEDx talk on foraging for mushrooms for dinner on Lake Champlain or receiving frying pans in the mail after meeting a woman at hotel bar and giving her restaurant recommendations. I've got some new things "cooking" in 2017 that are a direct result of writing Riegl Palate. I look forward to sharing more with you soon.
I haven't forgotten about the yummy cake. This recipe dates back to when I first learned to cook. I've had it in my big recipe binder since 1992 but had never made it. I was looking for something to bring to a house concert potluck dinner and this was just the right fit. It's also perfect that it's from the long gone Gourmet magazine – the first food magazine to which I subscribed (I was very sad when they stopped publishing it!).
For people who like chocolate and more chocolate and nuts with a bit of spirit look no further. While the cake requires two bowls (and ideally two mixers as I use both my stand mixer and hand mixer) it's worth it. The finished batter looks lumpy – don't worry as it will smooth out as it cooks. Plus it gets covered with a wonderful chocolate glaze. It was a lovely addition to the dessert table at Bryn S and Jack R's house concert.
A huge thank you to all who read, comment on, share and make recipes from Riegl Palate – it means the world to me. And to my husband who patiently waits for me to photograph his food and drinks before he can consume them.
Cheers to the art of good eating and to many more years of Riegl Palate!
P.S.  If you aren't already following Riegl Palate on social media please consider doing so. Check out Riegl Palate on Facebook, Instagram, Twitter and Pinterest.
Gluten-Free/Wheat-Free Notes:  There's only 1 tablespoon of flour so this can easily be made gluten-free by using a tablespoon of gluten-free flour. While the ingredients used to make bourbon contain gluten many believe that the distillation process removes the gluten. As a result some with gluten sensitivities are okay with bourbon while others are not. If you're concerned use rum (distilled from sugar cane and gluten-free) in place of bourbon (it will taste just as good).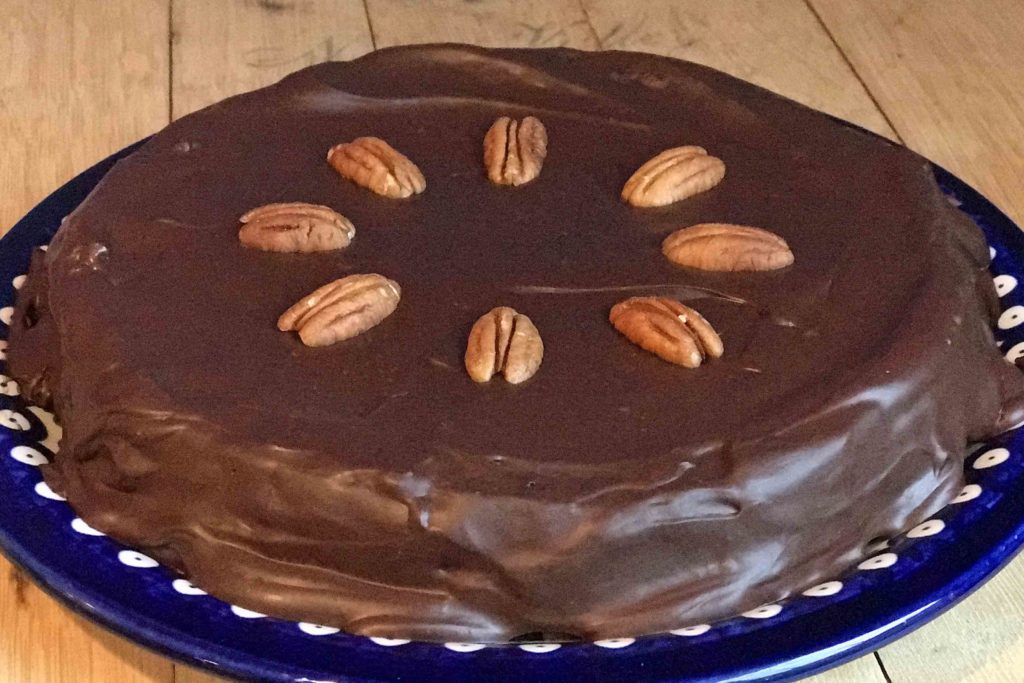 | | | |
| --- | --- | --- |
| Chocolate-Bourbon-Pecan Cake | | Print |
Ingredients
Dusting of cocoa for pan
6 ounces fine-quality bittersweet chocolate, chopped
2 ounces unsweetened chocolate, chopped
1 stick (1/2 cup) unsalted butter, softened
¾ cup sugar
6 large eggs, separated
¼ cup bourbon
1 tablespoon all-purpose flour or gluten-free flour
1 tablespoon coarse sea salt
½ cup pecans, toasted lightly, cooled, and chopped fine
IFor the glaze
6 ounces fine-quality bittersweet chocolate, chopped
½ cup heavy cream
1 tablespoon bourbon
8 pecan halves
Instructions
Make the cake:
Preheat oven to 350°F. Line the bottom of a buttered 9-inch springform pan with wax paper, butter (or spray with oil) the paper, and dust the pan with cocoa, shaking out the excess.
In a metal bowl set over a saucepan of barely simmering water melt chocolates, stirring until the mixture is smooth, remove the bowl from the pan, and let chocolate cool until it is room temperature.
In bowl of a stand mixer cream together butter and sugar until the mixture is pale and fluffy, add melted chocolate and beat the mixture until it is combined well.
Beat in the egg yolks, 1 at a time, beating well after each addition.
Beat in bourbon, flour and sea salt.
In a separate large bowl beat the egg whites with a pinch of salt until they just hold stiff peaks, stir one third of them into chocolate mixture to lighten it and fold in remaining whites and chopped pecans gently but thoroughly. It may look lumpy – that's okay.
Turn batter into the prepared pan and bake cake for 35 to 40 minutes, or until a tester inserted 2 inches from rim comes out clean. (The center of cake will remain moist.)
Transfer cake to a rack and let it cool completely. Remove cake from the pan, invert it onto the rack and remove the wax paper carefully. Invert onto a plate before glazing.
The cake may be made 1 day in advance and kept wrapped in plastic wrap at room temperature.
Make the glaze:
Put chocolate in a small bowl.
In saucepan bring cream to a boil, and pour it over chocolate. Add bourbon.
Stir the mixture until chocolate is melted and the glaze is smooth.
Pour glaze all over cake, smoothing glaze over top and side with a spatula.
Arrange pecan halves in the center of the cake.
Let cake stand 2 hours or until the glaze is set.
Serve at room temperature.
Notes
* If you want to make this truly gluten-free use gluten-free flour (such as
Cup4Cup Multipurose Flour
) in place of the all-purpose flour and rum in place of bourbon.
* This isn't a cake for kids as you can definitely taste the alcohol.
Source:  Variation on recipe from Gourmet, June, 1992