There's Black Friday, Small Business Saturday, Cyber Monday and Giving Tuesday. In our house the Sunday that falls in the midst of this string of days is Cookie Baking Sunday. For many years now the Sunday of Thanksgiving weekend is the day that I bake most, if not all, of my cookies for the holiday season.
I used to make a few different kinds but then I realized that while people liked my other cookies, they LOVED these Chocolate Chip-Pecan-Oatmeal Cookies. So why not give people what they love?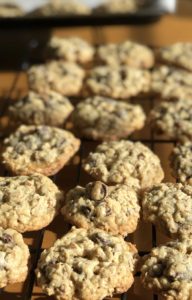 On this particular Sunday I make anywhere from 24 to 30 dozen of my signature cookie. One of the many reasons that this is such a good cookie is that it freezes well which allows me to make them well in advance.
This year when I was baking I took a few minutes to FaceTime with my brother, Geoff T and his family. They asked what I was doing so I showed them my kitchen table filled with cookies. My sister-in-law's (Annie T) response was that she'd never made that may cookies in her life – I'm fairly certain that's not true but it illustrates the point.
The key to this cookie is the salt. Don't even think about skipping the salt. You must (and I mean must) use coarse sea salt. The bigger salt crystals bring out all that is good about the chocolate in this recipe. I made this recipe for years with regular Morton's table salt and they were good. I switched the size of the salt crystals and these cookies became great cookies. A new foodie friend, Helen S, recently made my recipe. She raved about how easy it was to make and how nicely the dough held together. And, she couldn't get over how just a teaspoon of coarse sea salt could spread through the batter and make such a difference – trust me, it does. 
Another key is to remove the cookies from the oven when they're still undercooked. As they cool they will firm up and be just the right consistency.
While I'm able to share these cookies with many of my family and friends, I can't share them with everyone so the next best thing is to share the recipe. Wishing you all the happiest of the holiday season and good baking, too.
You'll find two other variations of this cookie on Riegl Palate: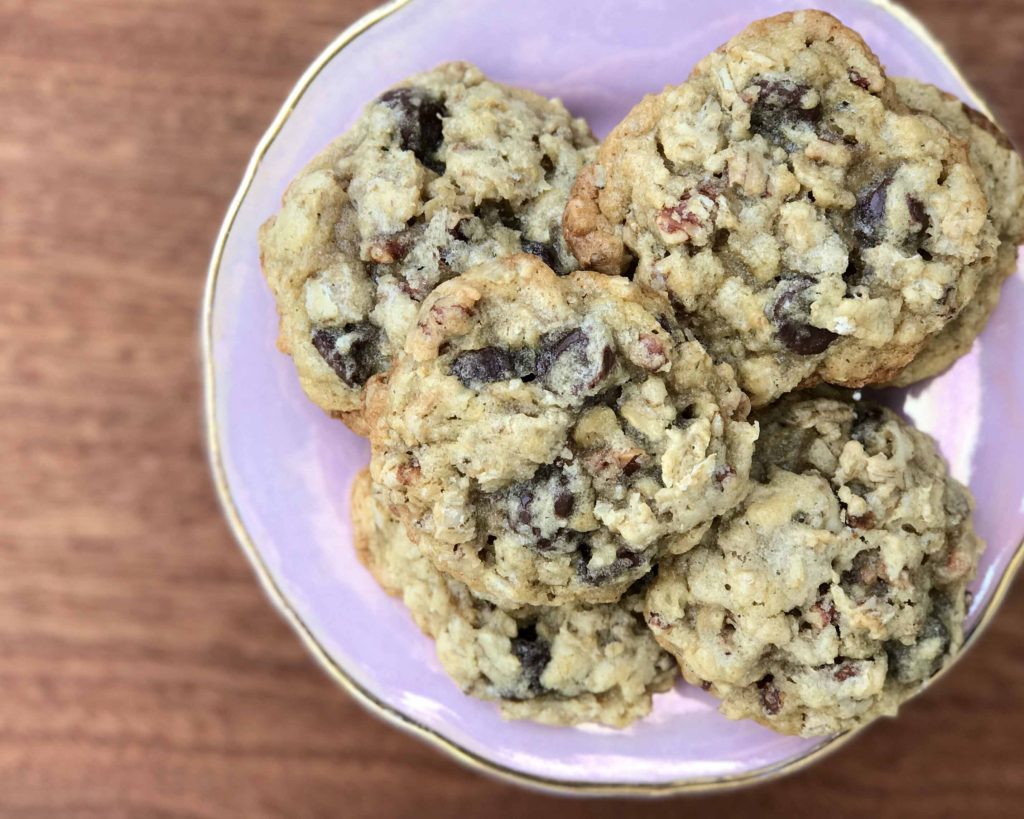 | | | |
| --- | --- | --- |
| Chocolate Chip-Pecan-Oatmeal Cookies | | Print |
Ingredients
1 cup (2 sticks) unsalted butter, at room temperature
1 cup brown sugar
1 cup white sugar
2 teaspoons vanilla extract
2 tablespoons milk (skim is fine)
2 eggs
2 cups all-purpose flour
1 teaspoon course sea salt
1 teaspoon baking soda
1 teaspoon baking powder
2-1/2 cups old-fashioned oats (not instant)
12 ounces semi-sweet chocolate chips (2 cups or one regular bag)
1-1/2 cups pecans, chopped
Instructions
Preheat oven to 350°F.
Cream butter with brown and white sugars in a mixer or by hand.
Add the vanilla, milk and eggs. Combine flour, salt, baking soda, and baking powder in a separate bowl; add to the creamed mixture and beat to combine. Stir in the oats, chips and nuts.
Drop each rounded scoop (don't flatten) of dough 1-1/2-inches apart on greased cookie sheets (or covered in parchment paper).
Bake for 10-12 minutes. Remove them from the oven when they look almost cooked as they will continue to cook a bit on the warm cookie sheet.
Let sit 3-5 minutes on the cookie sheet, then remove to cooling racks.
Notes
* These cookies freeze well.
* Make them gluten-free: substitute 2 cups
Cup4Cup
gluten-free flour for the all-purpose flour and 2-1/2 cups gluten-free oats (such as
Bob's Red Mill Old Fashioned Rolled Oats
). Everything else remains the same. Be sure to refrigerate dough for at least an hour (or longer) before scooping and baking.