This recipe is ideal for many reasons. First it's a chocolate cake with a chocolate glaze. Not much beats that (particularly in my family). Second the recipe makes two cakes which is perfect for me as I can serve one fresh and put the second in the freezer for a future occasion.
If it's possible I think I improved upon Giada's original recipe. One of the few things I baked as a child was a chocolate layer cake with chocolate frosting (from a box) with raspberry preserves between the layers. It was my mom's favorite birthday cake. I decided to try some preserves with one of these cakes. I cut one cake into two layers and topped the bottom layer with raspberry preserves and some of the chocolate sauce. Then I put the top layer on and poured the sauce all over the cake. Considering we all went back for seconds and there wasn't even a crumb left, I'd say it was a success.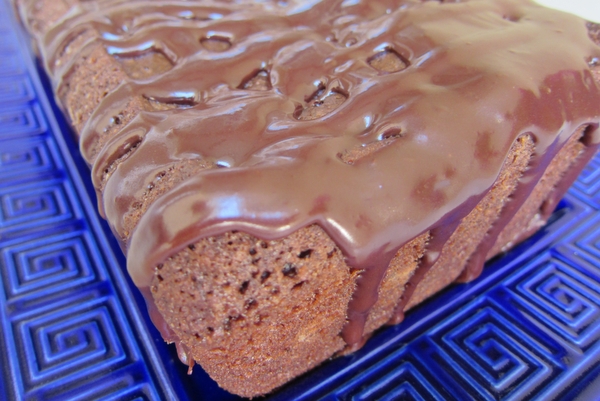 | | | |
| --- | --- | --- |
| Chocolate Pound Cake | | Print |
Ingredients
5 ounces unsweetened chocolate, chopped
1 cup water
⅓ cup mascarpone cheese, at room temperature
2-1/4 cups sugar
1 cup canola or vegetable oil
3 large eggs
1 tablespoon vanilla
3 cup all-purpose flour
1 teaspoon baking soda
1 teaspoon salt
½ teaspoon baking powder
¾ cup semisweet chocolate chips
1 cup semisweet chocolate chips
⅔ cup heavy whipping cream
½ teaspoon vanilla
Optional: 2 to 3 tablespoons raspberry preserves
Instructions
Place a rack in the center of the oven and heat oven to 325°F. Grease and flour two 9x5-inch loaf pans.
Fill a small sauce pan with two inches of water and bring water to a simmer. In a small heat-proof bowl set over the saucepan, combine unsweetened chocolate and water. Place over medium-low heat and stir constantly until the chocolate is melted, about 2 minutes. Set aside to cool for 2 minutes, then whisk in the mascarpone until mixture is smooth.
Using a mixer, beat sugar, oil, eggs and vanilla in a large bowl for 30 seconds.
Stir in the chocolate-mascarpone mixture.
Whisk flour, baking soda, salt, baking powder and chocolate chips in a medium bowl, then add to chocolate-mascarpone mixture. Stir until just blended.
Divide batter evenly between prepared pans and bake 60 to 70 minutes or until a tester inserted into the center of each loaf comes out with no crumbs attached.
Cool in pans 5 minutes, then turn out onto a wire rack to cool completely.
For sauce, place chocolate chips in a small heat-proof bowl.
In a small saucepan, combine heavy cream and vanilla and heat on medium-low until small bubbles appear at the edges of the pan.
Pour the hot cream mixture over the chocolate chips.
Stir with a fork until the chocolate is melted and the mixture is smooth.
Drizzle chocolate sauce over the top of the cake and down the sides.
Cool in refrigerator for 30 minutes or until chocolate sets.
Serve at room temperature.
Notes
* This cake is good without the chocolate sauce (but even better with it).
* You can also cut cake into bite-sized pieces and dip into chocolate sauce.
* To dress it up a bit, cut the cake into two layers using a serrated knife. Spread the first layer with raspberry preserves followed by a layer of chocolate sauce. Top with second layer and pour chocolate glaze all over the cake.
* To freeze the cakes (with glaze or without), wrap them well in plastic wrap and in aluminum foil.
Source:  Adapted from Giada De Laurentiis' Giada's Kitchen:  New Italian Favorites (2008)