Happy 4th Birthday to Riegl Palate! For the last two birthdays I've posted a chocolate flourless cake so I thought I'd keep that tradition going. While I can't celebrate with all of you in person I can share a deliciously yummy recipe with you.
At a recent gathering of former and current colleagues (AKA friends) I volunteered to make dessert. We were having a belated birthday celebration for Dana D. Dana is known in our group for making us chocolate-rum-raisin-walnut goodies for the holidays. I used that as an inspiration for dessert that night.
This cake was a huge hit! Kristin C's husband had conveniently made his way to the kitchen when we were serving it up and originally declined a piece but changed his mind and declared (many times) that it was the best cake he'd ever had. It's not for the faint of heart and isn't recommended for serving to children as you can definitely taste the rum. While the alcohol may burn off during baking it's definitely present in the frosting. Think chocolate-rum truffle in a cake form.
This cake is pretty simple to make as it doesn't have a lot of ingredients plus you can mix it by hand. Plus it's gluten-free and wheat-free. For the best result make sure you use good quality chocolate, butter and rum. I used Scharffen Berger's 70% Bittersweet Baking Chocolate Baking Bar (cake and frosting) and Unsweetened Natural Cocoa Powder plus a family favorite for the rum – Myer's Original Dark Rum from Jamaica.    
It's hard to believe that I've been posting a new recipe every week for the last four years. A huge thank you to all who have supported me throughout the years from tasting my cooking to making my recipes to sharing my site.  I'm always amazed at how many people I've touched. Nothing makes me happier than to hear that someone has made (and loved) one of my recipes. I love being a part of meals with family and friends even if I'm not with you in person.
Cheers to the art of good eating and to many more years of Riegl Palate!
P.S.  If you aren't already following Riegl Palate on social media please consider doing so. Check out Riegl Palate on Facebook, Twitter, Pinterest and Instagram.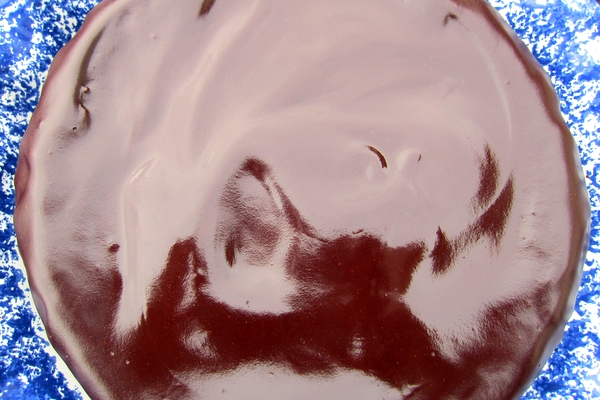 | | | |
| --- | --- | --- |
| Chocolate-Rum Flourless Cake | | Print |
Ingredients
6 ounces (1 cup) dark or semisweet chocolate, coarsely chopped
½ cup unsalted butter, cubed
½ cup sugar
4 large eggs
1-1/2 teaspoon vanilla extract
½ cup cocoa powder
½ teaspoon coarse sea salt
⅓ cup dark or light rum
4 ounces (2/3 cup) dark chocolate, coarsely chopped
3 tablespoons butter
1 tablespoon rum
Powdered sugar (for dusting)
Instructions
Preheat oven to 375°F. Grease an 8-inch baking pan and set aside.
In a small saucepan over low heat, melt together chocolate and butter, stirring until smooth.
Remove from heat and transfer to a large mixing bowl.
Using a whisk mix in sugar. Beat in the eggs one at a time, mixing until smooth between each addition. Stir in the vanilla extract, cocoa powder, salt and rum until well mixed.
Pour batter into prepared pan and bake for 25-30 minutes, or until a toothpick inserted into the center comes out relatively clean with a few crumbs. Do not over-bake or the cake will become dry.
Allow cake to cool in pan for 5 minutes before inverting onto a serving plate. Let cake cool before spreading glaze.
For Glaze:
In a small saucepan, melt together chocolate and butter, mixing until smooth.
Stir in the rum.
Transfer cake to a serving plate or dish.
Using an off-set spatula spread glaze evenly over cooled cake allowing it to drip down the sides.
Dust with powdered sugar.
Cake can be made two days in advance. Store in refrigerator. Bring to room temperature before serving.
Notes
* I like
Scharffen Berger
chocolate (bars and powder) plus
Myer's Original Dark Rum
.
* If you need to move the cake wait until it cools as it's less fragile and more forgiving. If you happen to get a crack don't worry as the glaze will cover it.
* Cake can be made two days in advance. Store in refrigerator. Bring to room temperature before serving.
Source:  Adapted from
Pastry Affair