With Cinco de Mayo almost upon us it's time to talk nachos. The perfect nachos to me are a balance between yummy ingredients and technique.
Nachos are a blank slate so while I've made suggestions as to what to add to them it's really up to your personal preference. Do you like meat or vegetables? What kind of cheese do you prefer? How do you like to garnish them?
Here's a few thoughts on my selection of ingredients:
•  Chips – You can use any kind of tortilla chip you like. In order to make these slightly more healthy I chose Late July's Sea Salt Multigrain Tortilla Chips which contain good things like chia, quinoa, millet, amaranth and flax. Why not sneak in a few good ingredients?
•  Meat – I prefer crumbled meat as you get more coverage than diced or shredded meat. You could use ground beef and season it, but why not use some spicy sausage? No need to season as there's enough flavor in the sausage. You'll need to remove the casing from the sausage before cooking.
•  Beans – Once again, it's all about coverage. While I like refried beans, whole beans are easier to spread around. Beans from a can are fine, but if you have a few hours, try this method for cooking dried black beans. It's super easy, they taste much better and are less expensive. Plus, you'll have leftovers that you can use for another meal or freeze them in one cup servings for future use.
•  Cheese – I like a combination of shredded cheese and soft cheese for the contrast. Ed thought it a bit odd that I was using feta (it happened to be my favorite French feta – Valbreso) but agreed that it worked. Feta has more flavor than more traditional Mexican Cotija or queso fresco which you might find crumbled on nachos.
•  Pan – Use a medium-sized cookie sheet and cover with parchment paper which makes for easy clean up. My broiler has the element going from the front to back in the center of the oven. With this sized cookie sheet I'm able to mirror the element for move even cooking. I use a combination of bake and broil to ensure everything warms up and that the cheese melts.
When it comes to the construction of nachos, I build them in two layers. In a perfect world every chip would have a bit of each ingredient on it. This is the closest way to achieve this. Lay down the half the chips and top with half of the sausage, black beans, scallions, jalapeño peppers, shredded cheese and feta. Repeat with the second layer in the same manner. Garnish with cilantro after heated.
Serve-up a batch of these nachos along with a pitcher of my favorite margaritas and you're all ready to celebrate Cinco de Mayo.
Random fact – did you know that Chef/Restaurateur Bobby Flay has a big Maine Coon Cat named Nacho? Check him out on Instagram @NachoFlay – he's got quite the personality!
Gluten-Free/Wheat-Free Option:  Nachos are usually safely gluten-free/wheat-free – make sure your chips and sausage meet those requirements and you should be fine.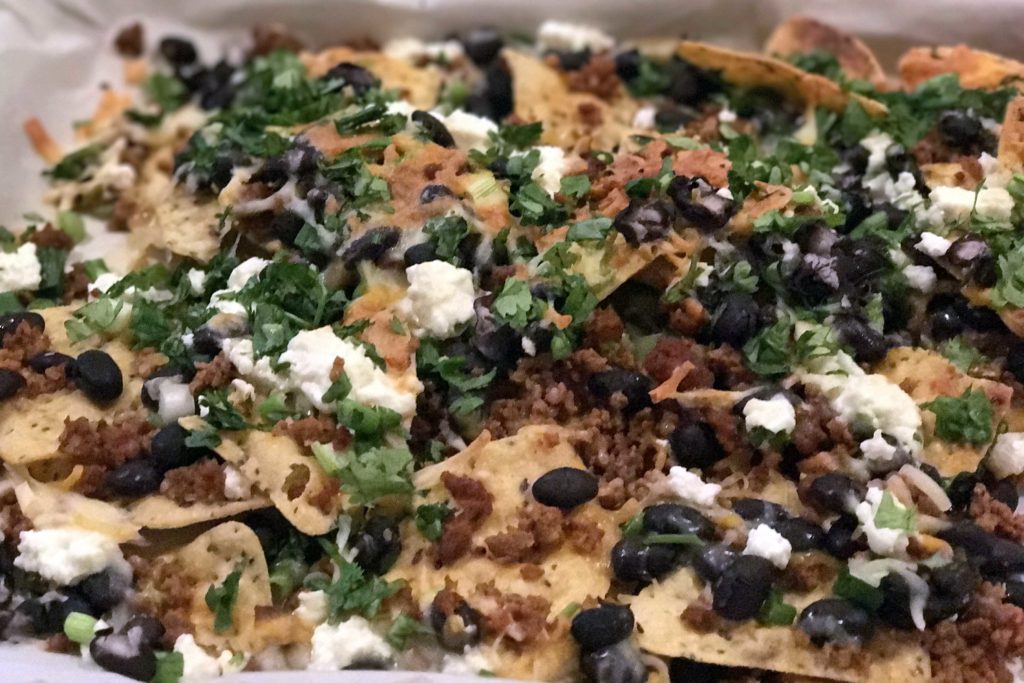 | | | |
| --- | --- | --- |
| Chorizo and Black Bean Nachos | | Print |
Ingredients
6 ounces tortilla chips
¾ pound chorizo sausage, casing removed
1-1/2 cups black beans
3 scallions, thinly sliced
1 to 2 jalapeño peppers, thinly sliced
6 ounces shredded Mexican cheese blend
2 ounces feta, crumbled
Garnish: 2 tablespoons cilantro
For Serving: Guacamole and fresh salsa
Instructions
Preheat oven to 350°F. Position oven rack close to the broiler element.
In a large frying pan, brown sausage and breaking it up with a wooden spoon, until cooked through, about 10 minutes. Drain off fat and place cooked sausage on a paper towel.
Cover a medium-sized cookie sheet with parchment paper.
Cover pan with half the chips. Top with half of the sausage, black beans, scallions, jalapeño peppers, shredded cheese and feta. Repeat with second layer in the same method.
Bake at 350°F for 5 to 7 minutes (this ensures everything is warm) and then broil for another 5 minutes (this ensures that the cheese melts). Watch to ensure that nothing is burning.
Garnish with cilantro and serve with guacamole and fresh salsa. Serve immediately.
You can serve from the cookie sheet or slide the nachos with parchment paper onto a platter.
Notes
* Instead of canned beans you can cook up a batch of
Dried Black Beans
.
* Recipe serves 4 as an appetizer and 2 as a main course.
* Recipe can be doubled using two cookie sheets. You can bake both and then broil each sheet individually.