A few weeks ago I embarked on a fun 24 hours in Philadelphia to celebrate the milestone birthdays of some dear friends (Lauri A, Carolyn R and Cathy Z). We kicked off our adventure at Parc Brasserie on Rittenhouse Square for lunch. Since it was a party we had some wine and cocktails. Sandy C enjoyed a Rosemarin (French for "rosemary") made from grapefruit vodka, St. Germain, grapefruit juice and rosemary and that's where the inspiration came from for this drink.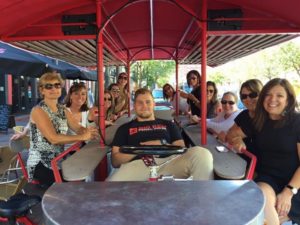 I assumed that the "rosemary" was a rosemary syrup. I've made a Rosemary-Brown Sugar Syrup to flavor another cocktail but I knew that was likely too complex for this one (but it does work great with pomegranate and gin). For this syrup I used less rosemary and white sugar. The end result paired beautifully with vodka, St. Germain and lemon juice. I'd recommend using a French vodka such as Grey Goose or Ciroc (made from grapes so it's gluten-free/wheat-free).
In a nod to Parc (and in keeping with the French theme), I called it a Citron-Rosemarin. As an aside, I'd heard that Parc makes an amazing cheeseburger and I can now confirm that.  One suggestion is to add avocado (I know, neither a hamburger nor avocado are very French).
We enjoyed some more good meals and libations plus a laugh out loud kind of experience on the Big Red Pedal Tour. You get to see the sights of Philadelphia from a big pedicycle that seats 15 people (you exert as much energy as you like). It's a fabulous group activity.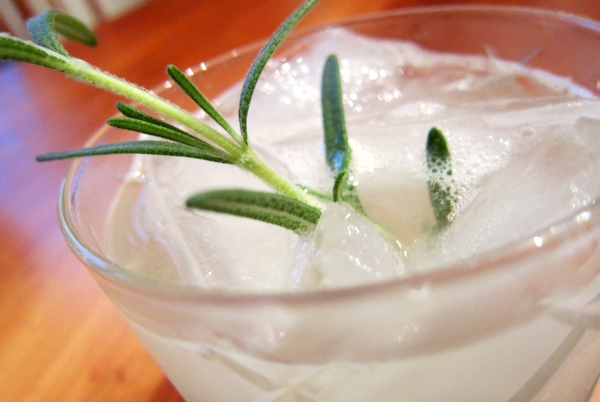 | | | |
| --- | --- | --- |
| Citron-Romarin Cocktail | | Print |
Ingredients
Leaves from 2 large rosemary sprigs
1 cup water
1 cup sugar
3 ounces vodka
1 ounce St. Germain
1 ounce Rosemary Syrup
2 ounces freshly squeezed lemon juice (~ 1 lemon)
Garnish with rosemary sprig and slice of lemon
Instructions
For Syrup:
Remove leaves from rosemary sprigs.
In a small saucepan, combine rosemary, water and sugar over medium-high heat. Stir until sugar dissolves.
Bring to a boil and let boil for a minute.
Remove from heat and let steep for an hour or two so flavors can develop.
Strain syrup into a storage container.
Store for up to 2 weeks in the refrigerator or freeze.
For Cocktail:
Fill a cocktail shaker with ice.
Add vodka, St. Germain, rosemary syrup and lemon juice; shake well.
Pour into two old-fashioned glasses filled with ice.
Garnish with a rosemary sprig and slice of lemon.
Notes
* The syrup recipe makes about 1-1/2 cups (or 12 ounces) – enough for 24 cocktails.
* This syrup freezes well so you can make it ahead of time.